ABI bones frame up another hi-tech success
Double honours are flowing for FormusLabs as the Auckland Bioengineering Institute snatch two prestigious titles at the 2023 NZ Hi-Tech Awards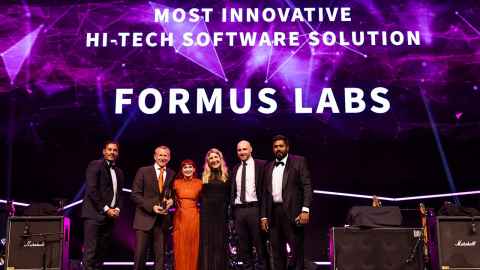 FormusLabs has been recognised twice over for its outstanding innovation, contribution and success as winner of the Duncan Cotterill Most Innovative Hi-Tech Software Solution and winner of the Soul Machines Most Innovative Deep Tech Solution.
The company, co-founded in 2016 by Professor Thor Besier from Waipapa Taumata Rau, University of Auckland, and alumnus and bioengineer Dr Ju Zhang, has developed the world's first AI powered orthopaedic surgery software.
FormusLabs' software combines medical imaging data with biomechanical simulation to optimise implant selection and placement for an individual patient.
The very patient-specific technology automatically creates a 3D model of a patient's joint, then selects and places implants that restore the native biomechanics. Surgeons can then interact with the 3D model to adjust plans according to their own expertise and preferences.
The software is the market frontrunner for orthopaedic surgery, offering a completely automated workflow which saves surgeons time, enables scalability and will make pre-operative planning easier, less intrusive, and more personalised.
Besier says current 'templating' solutions for planning orthopaedic surgeries rely on 2D X-rays and manual manipulation by surgeons to determine an appropriately-sized implant. However, joint replacement surgeries involve 3D geometry, and existing planning software does not account for the biomechanics of the joint.
"Our software improves patient outcomes by selecting implants that best match the anatomy and biomechanics of an individual from the get-go," he says.
FormusLabs harnesses the expertise and research done over years by Besier and his team at ABI into the mechanisms of musculoskeletal systems, injury and disease, and research that combines medical imaging with computational modelling. The software concept and intellectual property draws from Zhang's PhD and postdoctoral research at ABI supervised by Besier.
FormusLabs is another shining example of how the University can nurture pure academic research and provide support to academics who see opportunities for commercialisation. The ABI has created a culture for MedTech spinouts to thrive, so we are all looking forward to seeing where this leads. None of this happens of course without the smart young minds and hard work of our postgraduate students.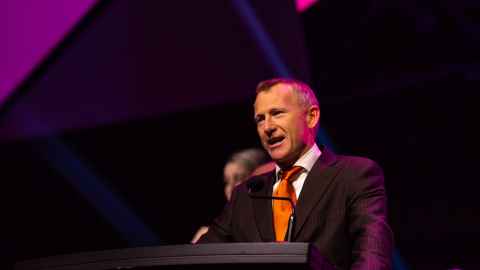 Besier's entrepreneurial experience at ABI is another component which has driven success. In 2013, Besier entered the Velocity (then, Spark) $100k Challenge run with the support of the Business School's Centre for Innovation and Entrepreneurship (CIE). His wearable sensor company developed through ABI, IMeasureU, won the competition and Besier and co-founder Mark Finch were awarded a spot in an incubation programme run by the Icehouse.
In 2017, IMeasureU was acquired by VICON, a global leader in motion capture technology, and they continued to expand in the international sports market with a focus on load-monitoring solutions for NBA athletes. Mark Finch is now Chief Technology Officer (CTO) of VICON.
FormusLabs recently launched their hip planner in Australia and have already delivered over 700 surgical plans via their channel partner, ZimmerBiomet. In February 2022, the company raised USD$5m in a round led by GD1, with participation from Punakaiki Fund, Icehouse Ventures, Pacific Channel, and Flying Kiwis.
In May 2023, they received FDA clearance that will enable them to reach the US market by the end of 2023. They have plans to become the global leader in hip replacement pre-operative planning within the next two years.
Distinguished Professor Peter Hunter, Director of ABI is delighted to celebrate in the success of FormusLabs and see an ABI spinout take centre stage once again.
"FormusLabs' achievements follow closely in the footsteps of the 2022 Hi-Tech Award successes which recognised ABI-spinout Alimetry and StretchSense," he says.
Kara Technologies launched from the University's incubator programme VentureLab was Highly Commended in the Visa Best Hi-Tech Solution for the Public Good category in the 2022 awards he says, and this year, JunoFem, another ABI spinout, was a finalist in Most Innovative Hi-Tech Creative Technology Solution category.
"ABI has created an environment where talented people like Thor Besier and others can help turn academic research into commercial outcomes both for the benefit of healthcare and the economy," he says.
In addition to the success at the Hi-Tech Awards, FormusLabs and Alimetry were also recently named as two of the 16 companies in Callaghan Innovations new Sir Callaghan Innovation 100 report. The companies featured were acknowledged for breakthrough innovation and for creating new pathways in their respective industries with pivotal contributions from Callaghan Innovation.
Besier, the successful serial entrepreneur and academic says "FormusLabs is another shining example of how the University can nurture pure academic research and provide support to academics who see opportunities for commercialisation.
"The ABI has created a culture for MedTech spinouts to thrive, so we are all looking forward to seeing where this takes us . Of course, none of this happens without the smart young minds and hard work of our postgraduate students."
Media contact
Megan Fowlie | ABI Media Adviser
M: 022 301 0334
E: megan.fowlie@auckland.ac.nz