From cohort to the Caribbean: MBA student Joel Stirling seizes the chance of a lifetime
Earlier this year, MBA student Joel Stirling enjoyed a one-of-a-kind experience soaking up business insights from none other than Sir Richard Branson.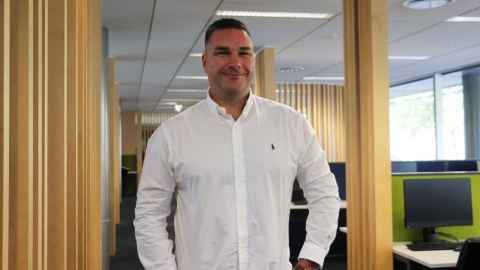 Scuba diving with the owners of Fortune 500 companies. E-Foiling with the heirs to the Coca-Cola fortune. And games of chess with Sir Richard Branson. All while luxuriating in the lush surrounds of Necker Island, Branson's private paradise in the Caribbean. Business owner Joel Stirling knew that undertaking an MBA at the University of Auckland Business School would open doors, but it's fair to say he didn't expect the networking opportunities to be quite this "insane".
Joel's incredible experiences came about in April when he attended OneFuture, a Branson initiative which brings together a select group of business leaders, entrepreneurs, and innovators from a wide range of industries for a deep dive into a theme of global importance. The theme of April's event – AI and blockchain technologies and their impact on the future of business – was particularly relevant; after all, who isn't talking about ChatGPT right now? So when an opportunity to attend came up – an entrepreneurial friend of Joel's was already attending, and invited Joel to join him – Joel leapt at it. OneFuture had been on his radar for a while; now, as an MBA student, he felt he had both the credibility and the confidence to take on the challenge of networking with some of the world's biggest names in business.
The agenda for the OneFuture event comprised a stimulating mix of thought-provoking presentations from guest speakers combined with a variety of exciting leisure activities. Joel found the high-level discussions on AI and blockchain technologies both fascinating and genuinely helpful, offering him insights into "market shaping and changing our business – how we could utilise [this technology] in our business and take full advantage of it. It's important that we adopt it in some way, shape or form. If you don't get involved, you're going to get left behind."
But just as significant was the opportunity to learn from industry experts he describes as "absolutely another level of [business] people – I had to pinch myself every day." Joel found that telling people about his MBA studies offered him an excellent entry into conversation: "Saying 'I'm actually an MBA student' opened a lot of doors. Like when I was speaking to the owner of the company that makes Tasers, I could say 'I'm an MBA student – I have some questions that people [Joel's MBA cohort] would like to ask, and I'd love to pick your brain.' And he sat down and gave me that time." Joel was able to record these discussions and share them later with his cohort, providing an invaluable contribution to the group's collective knowledge.
If you say, 'I'm an MBA student – I would love to sit down and chat with you', they're more willing to give their time, because they know that you're willing to learn and grow.
The highlight, however, was the chance to chat with Branson himself. Having promised his wife that he would attempt to play a game of chess with the legendary entrepreneur, Joel couldn't believe it when he managed to achieve this goal on his very first night. "[Branson] just walks up into the bar and sits down next to me and starts a conversation. I explained to him that I needed to get a photo and play a game of chess. He said, 'Ok, come on, let's go.' And we just sat down straight away and started playing. Then we played chess every day together." He describes Branson as "very approachable, very open to listening to people, to giving them an opportunity" – in fact, he even invited Joel to pitch. "Over the game he said, 'Ok, well, pitch to me. What have you got?' It was quite surreal – it was like being in a real-life version of Shark Tank over a game of chess." Even better – Branson liked his pitch, and an email invitation to contact Virgin Group has followed. Watch this space.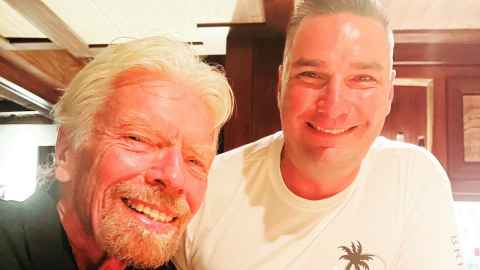 The two also bonded over their shared experiences living with dyslexia, a condition Branson labels a "superpower" rather than a "disability". As Joel explains, "He calls it a superpower because it means we think differently. And in our conversations, he taught me to be a master of delegating – we have to delegate our work to other key people that we trust. That's been a real eye-opener for me. Straight away, I've started doing that – delegating work and letting my mind do the creative side."
Joel initially feared that his dyslexia would prove problematic for his MBA studies. However, the combination of technology and support available to students in the MBA programme means that catering to his needs has not been difficult, and he says with confidence that "There's nothing to hold anyone back." While the programme has been "challenging", it's been "exciting and rewarding", too, enabling him to share knowledge and experiences with a variety of people from a range of industries. As on Necker Island, the programme has also enabled him to gain valuable insights from local industry leaders, for example Peter Beck (Rocket Lab) and Cecilia Robinson (My Food Bag): "If you say, 'I'm an MBA student – I would love to sit down and chat with you', they're more willing to give their time, because they know that you're willing to learn and grow."
Along with invaluable insights, incredible experiences, and some pretty impressive photos, Joel brought a key piece of advice back from his trip to OneFuture – advice which came from none other than Sir Richard Branson himself: "Just say 'yes' first. Ask what the question is, second. That's all. Just say yes and do it." This advice resonated with Joel, whose motto has always been "Jump off the cliff and learn how to fly on the way down." Crucially, the MBA programme has further developed his innate confidence, encouraging and enabling him to aim high – high enough, in fact, to pitch to Sir Richard Branson over a game of chess. And so Joel's advice to prospective MBA students is simply: take the leap. "I know a lot of business owners and business partners who, when I tell them I'm doing an MBA, say, 'Oh, I've thought about doing an MBA.' This goes on for years. And now I'm graduating, and they're still telling me that they're thinking about doing it. So – just do it. There's no better time than now."
 
Applications for the MBA programme starting September 2023 are open until 1 August, 2023.