B201: a poem by Selina Tusitala Marsh
On the occasion of the opening of Building 201, Professor Selina Tusitala Marsh has written and dedicated a poem.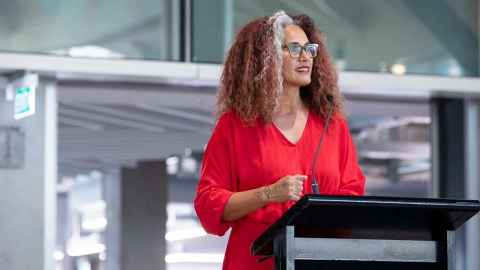 B201
For the Opening of the University of Auckland's Social Sciences Building
(Thanks to Jasmax and Haumi) 
It's really, really hard to write
A poem about a building
Its rhymes are all square-cornered
Its rhythms are unyielding
But this six starred green beauty
This is another story
Waipapa Taumata Rau
Is building upon history
Waipapa, the way of water
Runs through B201
Taumata, achievement and excellence
Of Rau, of everyone
Activates this space
Where generations are regenerated
The adaptive reuse of what was before
Form the bones of story translated:
Apihai's gift, Ngāti Whātua o Ōrākei,
A building here half a century
Six stars makes us world leaders
In low carbon design sustainability
Waipapa's history of rich industry
Where waka ramps bind land to sea
In 1838 reciprocal exchange
Between Pākehā and Māori
185 years on
Reciprocal exchange remains:
Knowledge, story, innovation, ideas
Runs through our now global veins
Our B201 landing ramp
Forged in Waipapa's backyard
Flows to our Marae and our Fale
Linking Symonds Street to Wynyard
This is intuitive wayfinding
Conceived from panels of tukutuku
Crossing, weaving, exchanging, binding
Releasing korero, knowledge, old and new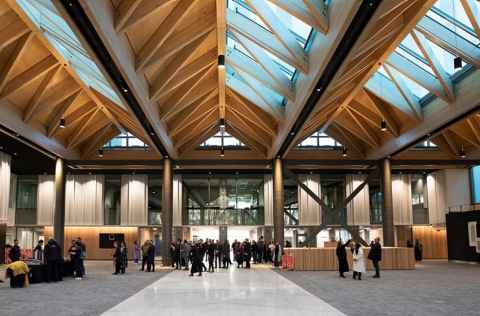 He tukutuku korero, he tukutuku mātauranga
Green energy fastens hearts and minds
Rightly tensioned, forward-facing
Mirroring our global marae
Te Ara Tukutuku, the pathway
Between Tane Māhuta and Tangaroa
Tuku atu, tuku mai, hand over hand
Trading knowledge from sea to shore
Te Ara Moana's bold, thick lines
Draws blue sky to green deep of land
Like ancestral search for new horizons
We question, create, understand
Shimmying through these panels
Ngāti Whātua's favorite diamond pātiki
Flounder founder of manākitanga
Reciprocity, mana motuhake
Ranginui's stairway steps in Walker's truth:
To climb is to descend
To lead singularly is to serve the many
Seek excellence without end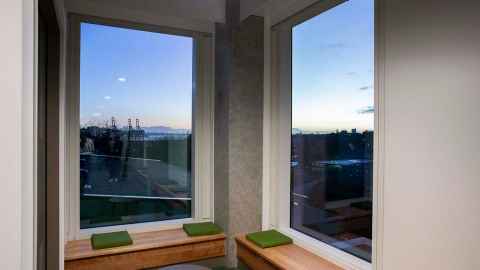 Te Ātea o Hine, Aunty Hilda's domain
Marks the restoration of campus mana
Hilkyard-Harawera's unwavering stand --
Colonialism's own belladonna
Currents of tukutuku steel-timber waves
Form a gateway above our heads
Valley floor and mountain peak
Synergising humanity's threads
The crossed spines of two spatial axes
Run East to West and North to South
Connects all who shelter, to land and water
Links this space to ourselves
For here is where we land and learn
Here we challenge and yearn
Here we press and transgress
And here is where we never forget
That as knowledge moves
It always grows
Circulates, connects
Equips and embolds
So, welcome to Building 201
Our work, our play, has just begun.
Professor Selina Tusitala Marsh (Faculty of Arts) ONZM FRSNZ is a poet, academic and illustrator, and was the New Zealand Poet Laureate for 2017–2019.