World-class building ready to welcome Education faculty to the City Campus
An elegantly transformed and sustainable home for the University of Auckland's faculties of Education and Social Work, Arts, and Creative Arts and Industries was officially opened by Prime Minister Chris Hipkins on 19 September.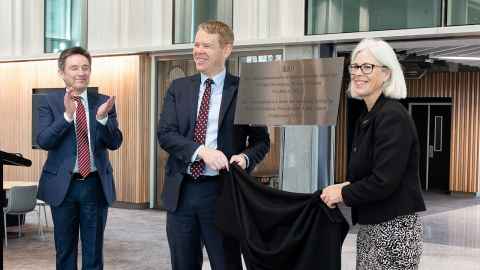 The refurbishment of the Univeristy of Auckland's 50-year-old former Social Sciences Building (B201), described as world-leading by the New Zealand Green Building Council, provides state-of-the-art teaching, learning, research and administration space.
It received shovel-ready funding from the Government in 2020.
Comprehensive planning and three years of intense construction led to the official ceremony on 19 September, attended by Vice-Chancellor Professor Dawn Freshwater, members of Ngāti Whātua Ōrākei, and representatives of main contractor Hawkins and consultants Jasmax, Beca, Precon, and BBD, among University staff and community members.
Professor Freshwater said  the finished building exceeded all expectations.
"This is a stunning purpose-renovated and sustainable building to welcome the Faculty of Education and Social Work to the centre of Waipapa Taumata Rau and to better connect the University precinct," she said.
"It provides opportunities for interdisciplinary collaboration in a modern, uniquely New Zealand setting, and I have no doubt will be a strong attraction for students considering studying here."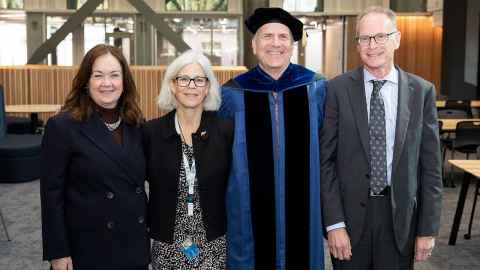 The building has been completed in preparation for the arrival of the Faculty of Education and Social Work (EDSW), moving from the University's Epsom Campus in time for the 2024 academic year.
Teacher training has been carried out at the Epsom Avenue site since 1926, while the University has been located there since the 2005 merger of Auckland's Teacher Training College and the Faculty of Education.
Designed with the teaching and learning needs of the range of occupant faculties in mind, the nine-storey building includes a new soaring glass atrium, capped by a vaulted timber roof and solar photovoltaic panels.
Facing on to Symonds Street, it will act as a main entrance for the building and a multi-purpose social, learning and events space.
Among many other notable features, B201 boasts dance and drama studios, a brand new, flexible lecture theatre, archaeology wet labs and, with teacher education in mind, specialist areas for cooking, timber work, craft, painting and music.
It will also host the School of Social Sciences in the Faculty of Arts. Professor Robert Greenberg, Dean of Arts, said, "It's wonderful that the University has made a commitment to our disciplines with these amazing new spaces that in themselves will bring new vitality to our respective faculties."
Additionally, the building provides social work suites, a native plant roof garden and on the upper levels, staff and postgraduate research offices that open on to attractive shared spaces with impressive views across the city.
Simon Neale, Waipapa Taumata Rau Chief Property Officer, says a 6 Green Star certification was a priority from the beginning as part of the University's commitment to sustainability.
"This project highlights how we can avoid bowling our existing spaces and instead adaptively re-use them, massively slashing our carbon emissions while creating a space fit for the future. While we targeted a 6 Green Star rating, we didn't anticipate receiving the highest score ever awarded by the New Zealand Green Building Council at Design. This is a truly world-leading, innovative building."
He says other benefits of the approach taken to reuse the existing concrete frame include a major saving in embodied carbon and a significantly reduced construction programme.
"To meet our climate change goals and create a zero-carbon future, we need more of the leadership and partnership demonstrated here by the likes of the University of Auckland, Jasmax and Beca," he said.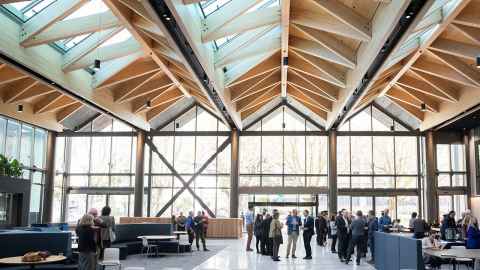 Designed by Jasmax, in collaboration with Māori design agency Haumi, engineered by Beca and constructed by Hawkins, the building was able to cut its carbon emissions in half by reusing and strengthening the existing structure rather than knocking it down and starting from scratch.
Jasmax project lead, principal and senior architect Chris Scott, says the 6 Green Star certification is an exciting development in the company's efforts to partner with clients to meet net-zero carbon targets across all new buildings over the next decade.
"The more you reduce the energy demand, the more comfortable and energy efficient the systems that support the interior become, so that was crucial in terms of the building."
He says one of the key client design requirements was to create a link between Symonds and Wynyard Streets and open the building up to Wynyard, from which it was previously closed off.
"We added a new lift tower that drops down onto Wynyard and a new entry there, and together with the landscaping, that's really going to transform the area and pull it into the campus."
He says the new connection also traces a historic one; that of the area called Waipapa that once sat adjacent to the foreshore below the University and was an important point of trade for Ngāti Whātua and the fledging city of Auckland.
"We wanted to incorporate that story into the façade and the atrium roof with the tukutuku language, so the exchange of produce has now become an exchange of knowledge. You can follow this horizontal zigzagging pattern, called Aramoana, onto Wynyard Street to recreate that journey."
The move into the new building for disciplines within education, social work and the social sciences will be staggered across coming months, with most occupants expected to be in place by the first semester of 2024.
Other buildings are also being renovated, including the historic Old Choral Hall, while the University's new Recreation and Wellness Centre is on schedule to open next year.
Dean of Education and Social Work, Professor Mark Barrow, said he and his colleagues were very much looking forward to becoming part of the City Campus.
"International research suggests that education faculties are almost always on the periphery of a university; more likely to be a satellite campus than centrally integrated. But at Waipapa Taumata Rau, we will be very much part and parcel of the heart of the University.
"We're just a stone's throw from the ClockTower and just across the road from the new Recreation and Wellness Centre (gym). This is very exciting for our faculty and particularly for our students."
Media enquiries
Lisa Finucane
M: 021 677 216
E: l.finucane@auckland.ac.nz