Ngāti Whātua Ōrākei lead blessing of University building
Waipapa Taumata Rau staff from the faculties of Education and Social Work, Arts, and Creative Arts and Industries joined colleagues, contractors and members of Ngāti Whātua Ōrākei for the blessing of the University's newly refurbished Building 201 this week.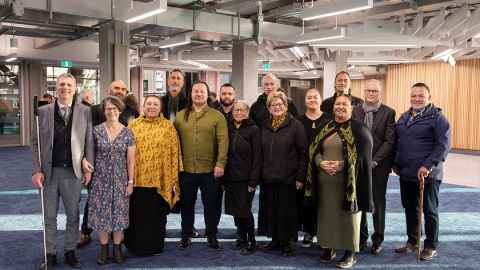 On 13 September, Waipapa Taumata Rau, University of Auckland and Ngāti Whātua Ōrākei opened Building 201 with a dawn karakia service.
Lead by Michael Steedman, Kaiarataki from the Office of the Pro Vice-Chancellor, Māori, the blessing saw nearly one hundred people tour the building, which will house staff and students from the three faculties, following the move by Education and Social Work into the City Campus from Epsom.
Built some 50 years ago, the refurbished Social Sciences Building was awarded a 6 Green Star Design rating by the New Zealand Green Building Council. This puts it in the 'world leadership' category. It will be officially opened for business by the Prime Minister the Rt Hon Chris Hipkins next week.
During the ceremony, Michael Steedman acknowledged the history of the building and the connection it had had with Ngāti Whātua Ōrākei, the University's iwi manaaki, over the past half century.
"Ngāti Whātua Ōrākei has supported the city of Tāmaki Makaurau since Hobson landed in Aotearoa in 1860, and the University of Auckland since its earliest days 140 years ago.
"The University acknowledges this important partnership; the karakia service allows the mana of tangata whenua to weave their mauri into the journey ahead."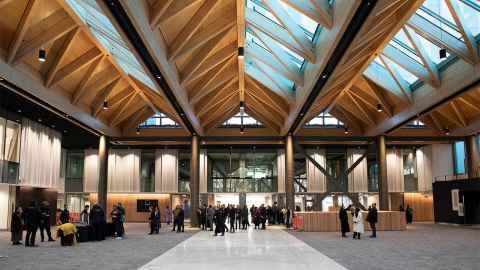 Thanking Ngāti Whātua Ōrākei, the Dean of the Faculty of Education and Social Work, Professor Mark Barrow, said he and his colleagues were very much looking forward becoming part of the City Campus.
"International research suggests that education faculties are almost always on a periphery of a university; more likely to be a satellite campus than centrally integrated. But at Waipapa Taumata Rau, we will be very much part and parcel of the heart of the University.
"We're co-located with colleagues from the Faculty of Arts, which we know will lead to increased interdisciplinary collaboration which will be a real advantage for our students. We're also a stone's throw from the ClockTower and just across the road from the new Health and Wellness Centre (Gym). This is very exciting for our faculty and particularly our students."