Letterboxd founders' smash hit still growing
Movie-review platform Letterboxd, devised by two computer science alumni, is a smash hit and set to grow.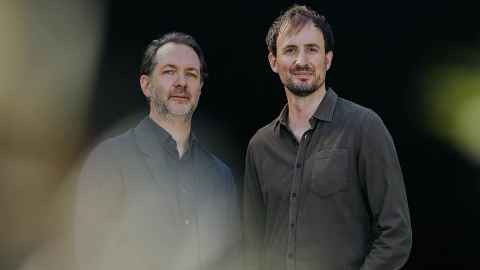 When Letterboxd, then a fledging website for film buffs, was a dollar-draining labour of love, developers Matthew Buchanan and Karl von Randow added a tagline to explain it, saying it was: 'Goodreads for movies'.
Fast forward a decade and the University of Auckland computer science alumni are only half-joking when they suggest the behemoth book site Goodreads – which sold to Amazon in 2013 for a reported $US150 million – might now consider rebranding itself 'Letterboxd for books'.
When Covid-19 brought the global economy to its knees, the pandemic turbo-charged the Letterboxd app and social media network, lifting it from 1.8 million users in 2020 to about ten million today. Around four percent of active users are paid subscribers, and more than half of those are 18 to 34. A stonking 80 percent are under 45. In 2021, The New York Times said its success was proof of a thriving film culture.
Before this, the platform they launched in 2011 had sucked 'millions' from their web and app design business Cactuslab – Letterboxd didn't start making money until 2019. But when Covid hit, it was the social connection that couch-bound film fans craved.
"We paid ourselves nothing for years," says Karl. "We were subsidising its development by using people from our agency business. We wanted to take on less work at the agency to free up people to spend time building Letterboxd."
They hired their first full-time employee, editor-in-chief Gemma Gracewood as Covid hit, and now have 16 full-time staff and around eight part-timers in New Zealand and the US.
Matthew began his computer science degree in 1991 when the web was in its infancy, and recalls most computer conversations with movie buffs at the time were in text-based chatrooms.
"One I frequented was rec.arts.movies where a guy called Colin Needham was hanging out. He'd publish lists of actors and every film they'd ever been in."
Needham went on to found IMDb, the pre-eminent source of movie data, now with more than 80 million users. But the site lacks the social following and engagement of Letterboxd. Within three weeks of the launch of blockbuster Barbie in July, for example, nearly 1.2 million Letterboxd users had rated the movie – six times the number on IMDb.

We have Tom Cruise talking to our microphone and 'Barbie' director Greta Gerwig sitting down with our team.

When Matthew built his first website – for the All Blacks – in 1994, it was among the first on the internet in New Zealand. He and Karl, who began his degree when Matthew was finishing his, met when they worked at a Parnell web design company, and set up Cactuslab in 2001.
Letterboxd is now a big name in Hollywood. In a collaboration with the Oscars in 2023, it compiled a "love letters from Letterboxd" reel of user reviews read out by nominees. Letterboxd staff also met with director Guillermo del Toro. "He wanted to know how it works, how people get popular on it and why it doesn't suck like X."
Last year, multi-award-winning actress Anne Hathaway recorded a birthday message for Matthew during an interview with the team. Even Barbie star Margot Robbie is rumoured to have a Letterboxd account. Of course, Karl and Matthew couldn't possibly say.
"Roll back two years," says Karl, "No one was talking to us. Partnering with the Oscars? We'd be dreaming. Now we have Tom Cruise talking to our microphone and Barbie director Greta Gerwig meeting with our team for 20 minutes."
As the site's celebrity status rose, so did questions of it attracting a buyer. Earlier in the year Matthew said they wouldn't sell to the likes of Elon Musk, who shelled out $US44 billion for Twitter. "We can absolutely assure you we will not sell anything to Elon Musk."
But later in the year, they didn't need to consider a big buyout by Musk – they opted for a Tiny one. In September, Canadian technology firm Tiny purchased a 60 percent share of Letterboxd in a deal that valued the company at $83 million. Matthew and Karl are stoked.
Says Karl: "Tiny understands what makes Letterboxd special, loves our vision for growth, and shares our respect for our amazing community. We'll grow from here."

This story appears in the Spring 2023 edition of Ingenio.