Kaitohutohu Wharenoho | Resident Advisers Complete 2022 Training
The University's Ngā Wharenoho | Accommodation is providing housing and pastoral care for over 2,500 students this year. A central part of ensuring the positive experience of student kainoho | residents is administered with the invaluable help of Resident Advisers (RAs).
As University staff members, RAs serve as leaders and resources in Ngā Wharenoho for the students under their care. They also occupy this role as students and, often times, former kainoho themselves. Their wide-ranging duties includes engaging with students, being a trusted source of support, and developing a strong sense of community.
Each year, the new class of RAs undergo a rigorous two-week training to ensure they are well prepared for the year ahead. Despite Covid related concerns, the 2022 RA class attended their training with enthusiasm and a sense of preparedness.
From 2 to 16 February, the RA class worked on team building, emergency preparedness, inter-personal skills, academic support, conduct, and equity services. The training is catered to address any and all needs which might arise during the year. They attended suicide prevention, first aid, and pastoral care courses. Training also focused on learning more about the University's stance on Te Tiriti and RAs were taught a waiata, Te Iwi E.

Ngā Wharenoho has been taking more steps to being an inclusive space for all students and staff. Some of the training focused on equity for Māori, Pasifika, rainbow, and disabled students. Some halls provide more specific equity focused communities, such as the Kaupapa Māori floor in Waipārūrū Hall and the rainbow pod in O'Rorke Hall. This year we also introduced the option for RAs to share their pronouns on their staff shirts to help normalise the importance of sharing pronouns across our communities.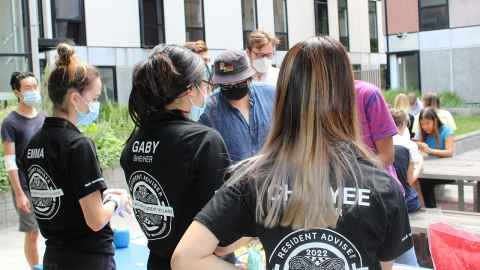 Ka pai to our RAs for finishing their training! While the start of the year has been difficult with the spread of Covid, we are sure that it will be a great year with your support.