Our vision at Accommodation | Ngā Wharenoho is to establish a community which promotes Hauora and enables all to reach their full potential.
Waka of Wellbeing
The key to achieving this vision is our wellbeing/hauora framework the Waka of Wellbeing. We are all on a journey. We are navigating our way through new living and learning environments everyday. Our waka symbolises our University as the vessel for our educational journey of transformation. Our commitment to developing holistic wellbeing – hauora is represented with our waka paddles.
Each paddle representing an area of growth and support. Together we will work together to develop and achieve in these areas to reach out potential.
Dimensions of our framework are: 
Social | Whanaungatanga: Taking opportunities to form successful relationships, connect with others and build networks and memories with others. 
Spirit | Wairua: Understanding ourselves, our values and feeling connected with our community and what brings us fulfilment. 
Environment | Whenua: Reflecting on both our personal and global environment, making sure we are positioning ourselves into a healthy place for success. 
Body | Tinana: Looking after ourselves physically, through an awareness of our body's development and ongoing care, ensuring that we are able to achieve. 
Mind | Hinengaro: Ensuring our academic success, emotional state and finances are balanced, with connection to support readily available.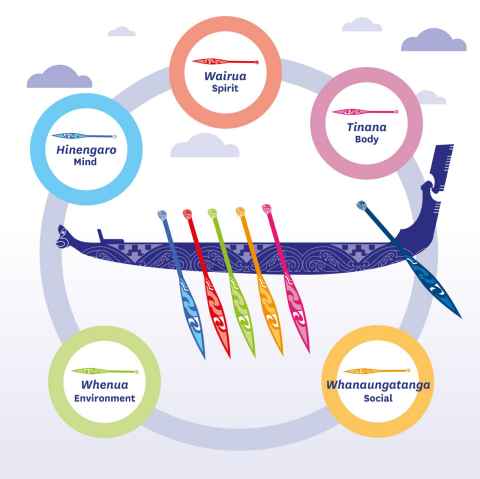 Our Accommodation | Ngā Wharenoho motto is: He waka eke noa – we're all in this together! One of the most important aspects of our framework is authentic partnership and collaboration. Represented by the Hoe pana (steering paddle) our commitment in Accommodation is that our staff, contractors, partners, residents and whānau will all work alongside one another to ensure we are well equipped for our journey and that our communities strive for success and mana.
We implement our framework by aligning our engagement programme to it and having intentional learning outcomes linked to each dimension. One of the many ways we can ensure we are more than just a place to live.