About UNIM8S Social Sports Leagues
UNIM8S Social Sports Leagues are a great way to have fun and get fit while hanging out with your friends, classmates and workmates.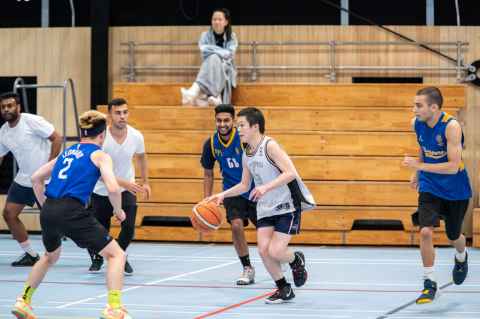 What's on offer this semester
There are a variety of UNIM8S sports to play including Basketball, Futsal, Indoor Netball, Volleyball, Ki o Rahi and Ultimate Frisbee; you can check the complete list of sports on offer and how to register here. 
How to find a team
Your best bet to find fill-in players or a team to play in, is to advertise your sporting prowess on the UNIM8S Social Sport League Facebook group. This group has been set up so individual players and teams can connect with each other. Alternatively you can contact the UNIM8S co-ordinator (details below).
Visit the UNIM8S Facebook Group.
Community teams
Teams from outside the University of Auckland can register as a community team. Please note that student teams will have priority if we have capacity issues with the league. Community teams also have to pay a slightly higher fee than student teams. 
High-school students
Secondary school students are welcome to join us. As a way of supporting the Sport Beyond School, you'll pay the normal University student price.
Money matters
You don't have to pay to enter the City Campus Recreation Centre. Your UNIM8S registration fees goes towards covering the cost of court hire during your allocated game time. However, you will need to pay for additional visits that fall outside of your game time. 
Covid-19 refund guarantee
All UNIM8S Social Sports Leagues are Covid-19 guaranteed. All matches that are cancelled and are unable to be rescheduled will be refunded.
Terms and Conditions
Contact
If you need more information or have any questions, please contact:
Jake McRae
UNIM8S Coordinator
Phone: +64 9 373 7599 Ext:82044
Email: jake.mcrae@auckland.ac.nz