The annual Clubs Awards was held in the Pavilion on Thursday 3 October. Find out who walked away with an award on the night.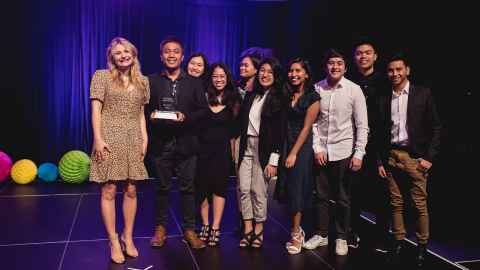 Supreme Club of the Year
Winner
Muslim Students' Association
The overall winner is normally selected from the categories listed below, however this year the award recognised the Muslim Students' Association, in honour of their strength and focus in the wake of the Christchurch terror attack.
Following this horrific attack, the Muslim Student Association provided feedback, advice and leadership at the University.
As a social and religious organisation, their usual activities include Jumu'ah prayers, quizzes and study sessions. They took a big step up when it mattered most and we are in awe of their spirit.
New Club of the Year
Winner
Developers Society
The Developers Society hit the ground running, securing sponsorship funds before they even launched their organisation. They've continued to grow with a successful 48 hour hackathon, high profile speakers and working with high schools to promote technology. They are committed to seeking and responding to member feedback.
Runner up
Chinese Postgraduate Society

Cause of the Year
Winner
The Sustainable Future Collective
Sustainable Future Collective have knocked it out of the park with their collaborative approach this year. They've networked across the University and with other clubs to create a community of socially conscious change makers. Using their connections, the club has spotted and filled gaps in events, activities and campaigns. Above all, they have role modelled sustainability in all its facets.
Runner up
Fossil Free
Religious and Spiritual Club
Winner
LGBT+ Christian Alliance
Filling a much needed gap in the University community, LGBT+ Christian Alliance has grown quickly from 20 to 100 members with weekly activities and larger events. The organisation has worked with other Christian organisations to establish itself as an important part of the wider Auckland community.
Academic Club of the Year
Winner
Civil Engineering Student Association
CESA had a 250% increase in sponsorship, 30% increase in memberships and shifted their focus from social activities to delivering transformational development and employment  opportunities for civil engineers. 
| Faculty | Winner |
| --- | --- |
| Business | Social Innovation New Zealand |
| Engineering | Civil Engineering Student Association |
| Science | Science Student Association |
| Law | Rainbow Law |
| Arts | Arts Student Organisation |
| Medical and Health Sciences | Student Association for the Medical Sciences |
Cultural Club of the Year
Winner
Han Cultural Club
Han Cultural Club has experienced a more than 50% membership increase! Focusing on promoting the culture, the club hosted numerous regular activities covering all aspects of the traditional\ culture. With a strong focus on making meaningful connections, the executive has role modelled one of their key messages, "inner beauty and good character attract more than words".

Runner up
Taiwanese and New Zealand Students Association
Sports Club of the Year
Winner
Underwater Club
Underwater successfully purchased a new boat this year, an exceptional achievement. The club now can now take more people further on trips. They have also focused on making certification more affordable for open water qualifications, and increasing female diver participation. 
Runner up
Volleyball club
Special Interest Club
Winner
Auckland University Chess Association
This association fulfilled a long-awaited desire for a chess club, gaining more than 250 members in their first semester. Their weekly session is open to all skill levels and styles of game play. They also secured sponsorship to ensure a professional start to the organisation with a marketing strategy well under way.
Runner up
Stray Theatre
Individual Awards
| Category | Winner |
| --- | --- |
| Treasurer of the Year - runner up | Natasha Smyrke (Women in Health Network) |
| Treasurer of the Year - winner | Alexandra Riddle (SciSA) |
| Secretary of the Year - runner up | William Lay (ESA) |
| Secretary of the Year - winner | Rachael Machado (Women in Law) |
| President of the Year - runner up | Dee Iosefa and Fionn Tuapola (Pacific Island Law Students Association) |
| President of the Year - winner | Teresa Lee (UN Youth) |