Maryam Tayebi says the SGS Research Showcase was a great place to combine her creativity and skills and create something unique.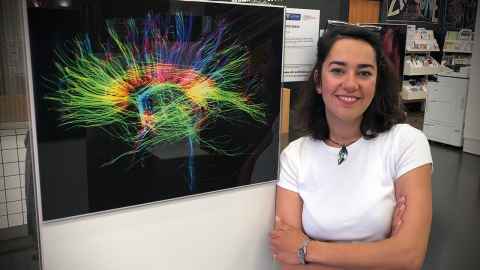 "My background is in medical imaging – I make different types of images from the human body for research purposes. In my PhD project, I am focusing specifically on the brain.
"I have always enjoyed art. After hearing about the SGS Research Showcase, I realised that it was the perfect place for me to combine my interest and my profession – art and science! Science has a lot of beauty in it, but scientists do not normally focus on that aspect of showcasing this beauty to others.
"Luckily with the advancement of technology, we have access to the extraordinary world of imaging facilities. Now it is possible to take advantage of these gifts, which is what I decided to do for the showcase. The event was a good opportunity for me to use my creativity and skills to make something unique.
"I think any students who are curious about combining their research with art should give themselves the opportunity to present it in some sort of a competition or display – and the SGS Research Showcase is a great place for that!"
Maryam was the runner-up of the Research Image category in the SGS Research Showcase in 2020. View her research image: Multi-layer exploration.
Enter the online SGS Research Showcase 2022
The SGS Research Showcase is the perfect opportunity for masters research students and doctoral candidates to broaden their research impact, enhance their communication skills, and be in to win prizes worth up to $500. You can choose to submit an academic poster, research image,  Pecha Kucha presentation – or all three.