As a Nelson-based candidate, Trevyn says the SGS Research Showcase was a rare opportunity to interact with the University community, share his work from afar, and see what other people were up to with their research.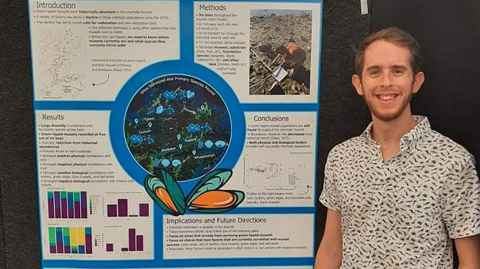 "I entered the SGS Research Showcase because I have always had a passion for design and science communication so it seemed like a perfect fit! Being based in Nelson, I don't often get a chance to interact with the main campus community so this was a great opportunity to share my work and see what other people were up to.

I liked the challenge of adapting my work to be interesting and eye-catching to a broad audience but still detailed enough to reflect the complexity of the research.

"My poster received the runner-up prize, which was really exciting and a great confidence boost to me as a science communicator and researcher. 
"I'd recommend getting involved with the SGS Research Showcase because it's a great chance to show off what you've done and what you know! We all love talking about our research and this is a great chance to put a visual spin on that and share your passion with an excited audience."

Trevyn Toone was the runner-up of the Academic Poster category in the SGS Research Showcase in 2020, with his submission: Mussel Decline and Recovery Potential in Kenepuru Sound.
Enter the SGS Research Showcase 2023
The SGS Research Showcase is the perfect opportunity for masters research students and doctoral candidates to broaden their research impact, enhance their communication skills, and be in to win prizes worth up to $500.