Iranian-Kiwi writer, filmmaker and academic Ghazaleh Golbakhsh discusses how immigrant life has shaped her academic and creative work.
Programme: PhD by creative practice in Media, Film and Television
Research topic: Monsters, Lovers and Slackers: The liminal experience in Iranian diasporic cinema 2012-2017
Supervisors: AP Shuchi Kothari and Dr Stephen Turner
Academic unit: Faculty of Arts, School of Social Sciences
Funding: University of Auckland Doctoral Scholarship
Hello! Tell us a bit about yourself
"I was born in Tehran, Iran and moved to New Zealand at a young age to escape an ongoing war and oppressive regime. The late 1980s New Zealand was not an easy place for new immigrants and I encountered hostilities even as a six year old, including being yelled at by teachers for not understanding English. I vowed not to be embarrassed like that again and set about reading as much as I could - so much so that I was eventually put up a year in school.
"I think this experience drew me to the creative world. The ability to communicate is just so important to me and a lot of my work, both academic and creative, links this to ideas surrounding homeland, ethnicity and identity. I fell in love with writing and cinema, which has its own unique way of communicating to the world, and now I'm proud to call myself an Iranian-Kiwi who is a writer, filmmaker and academic."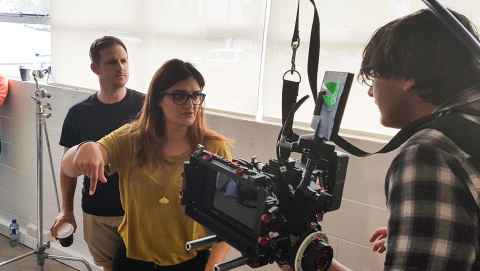 Tell us about your life before the doctorate
"It's hilarious to note that when I first started University at 17, I hated it. My grades were terrible, so I dropped out and bought myself a one way ticket to London, UK. It was the best decision I ever made. London was both incredible and horrible but for me - it was the perfect escape and helped me focus on what I actually wanted to do with my life. I decided to come back and finish my undergraduate studies.
"Afterwards, I travelled again. I worked in the film industry and went back to London to work some very odd jobs, including a stint at an anti-terror think tank. I remember meeting an amazing academic in the UK and that inspired me to continue my education. Coming back for my postgraduate degree was made easier with amazing supervisors such as Professor and filmmaker Annie Goldson and Associate Professor and filmmaker Shuchi Kothari, who have been my mentors ever since. Halfway through my Masters in Screen Production at Auckland, I gained a Fulbright scholarship. I used that to study screenwriting and filmmaking at the School of Cinematic Arts, University of Southern California in Los Angeles.
"My MA thesis was a short documentary, Iran in Transit, and required me to travel back to Iran to look at what makes a homeland. The film did well on the international student film festival circuit and even won an Outstanding Film Award at the Beijing Student Film Festival in 2013. I continue to write for other directors, many of who I met at USC including the short thesis film Mandala, which won the Best Foreign Film at the Student Director's Guild of America award. I am currently finishing my third short film The Waiting Room, which I wrote and directed."
Read more about Ghazaleh's early experiences: 'They speak English and have good lamb'.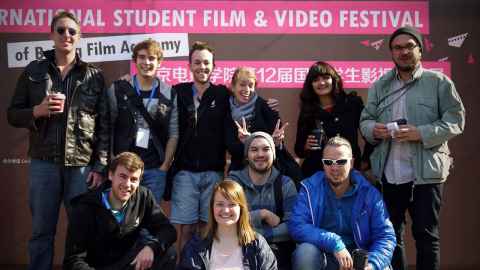 Tell us about your doctoral research
"My research uses a postcolonial and feminist lens to focus on Iranian diasporic cinema, particularly on films produced and released in the Anglosphere between 2012-2017. What makes these films super intriguing is that bar one, they are all made by women filmmakers; they are all made by first or second generation Iranians living in the diaspora; and they all focus on a type of Iranianness in their stories.
"I am linking this to my own feature screenplay (the creative practice element of my PhD), At the End of the World, which follows two young Iranian women who grew up in New Zealand as they take a road trip to Gisborne. The screenplay is a type of love/hate letter to New Zealand from the point of view of a 1.5 generation immigrant."
What does 'research' look like to you?
"My routine is often flashes of energy of researching, reading and writing, then hours and hours of panic and regret at not doing more. I have a great relationship with my supervisors and often discuss my plan for my thesis: the chapter outlines, ideas around themes to focus on, readings, films and theorists to research. For me, it's really helpful to have advice and feedback on my work so that I know I am on track and not veering off. It's also great to have deadlines! I do get to watch films as research, which is one of the perks.
"Doing a creative PhD sometimes means more work as, aside from the main thesis, I also have my screenplay which I have been developing with my supervisors, script editors and other professionals in the industry. Exploring the process of screenwriting and the screenplay itself is one of the core aspects of the thesis."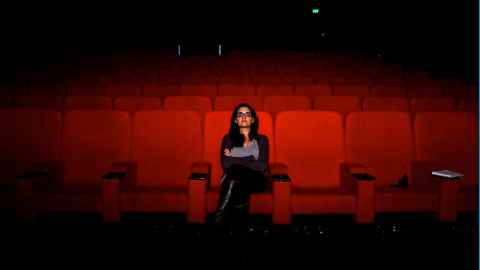 You've fit quite a lot in during your doctoral career – tell us a bit about some of the things you've been involved in.
"Doing a PhD can be a very lonely experience so I think it's important to get out of that every now and then. Having loved my Fulbright experience, I now help reconnect Fulbright alumni and supporters in the Auckland region. During that year in LA, I undertook an internship with the Sundance Institute which was a dream come true. I continue to foster that relationship with the institute as I really loved their focus on independent storytelling and artist development.
"I have done a few library workshops and the Faculty of Arts doctoral writing retreat, which was a fantastic way to meet people outside of my department. I currently write for various NZ publications and helped co-found a filmmaking collective, Waking Dream Collective, which aims to support and encourage immigrant women filmmakers in Aotearoa.
"Last year I did the NZLI PhD Leadership course through the University, which was eye-opening. We learned about different types of leadership and how different personalities can make equally excellent leaders. Most importantly, I listened to people in different industries discuss their paths to success. For me, seeing someone in a position of leadership is fundamental to then envisioning yourself there, which is why it is crucial that we have more women, particularly women of colour and from different backgrounds, in leadership roles."
Find out more: Waking Dream Collective

As a successful young creative, what advice can you give others hoping to follow in your footsteps?

"Do a gap year if possible. See the world. Get to know yourself. In terms of creativity, only pursue it as a career if you are very passionate about it. It's not simply a hobby and it's a long, long road to success (whatever that is!). Also surround yourself with good people and apply for everything.
"It's really easy to feel like a fraud in both academia and the creative industries. But I always go back to my favourite quote of all time, from the famed Hollywood screenwriter, William Goldman "Nobody knows anything". You can definitely make your own path."