Sara Beikzadeh's desire to contribute to fast-growing scientific developments drives her doctoral research. Getting involved with CIE programmes helped her to appreciate the value of her research, and the ways it could be used to improve others' quality of life.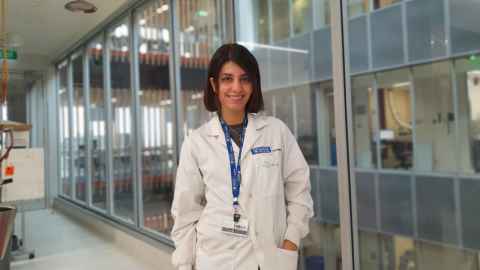 Programme: PhD in Food Science
Supervisors: Professor Jadranka Travas-Sejdic, Professor Paul Kilmartin
School: Chemical Sciences, Faculty of Science
Funding: Biocide Toolbox programme funded by the Ministry of Business, Innovation and Employment (MBIE)
Journey to doctoral research
"While doing my masters research in Food Science at one of the top universities in Iran, I worked on developing antibacterial bionanocomposite materials for food packaging. I wanted to continue researching in this field and while looking for research groups from top-ranking universities worldwide, I found fascinating articles from electrochemical research group at the University of Auckland.
"So, I contacted my co-supervisor Professor Paul Kilmartin about the opportunities available and managed to get a scholarship to work on antibacterial platforms. My adviser Dr Simon Swift and my amazing supervisors are from different disciplines. This has helped me to take a multidisciplinary research approach covering different areas, including food science, electrochemistry, and biology."
I highly recommend participating in CIE programmes, like the new Doctoral Entrepreneurial Leadership Programme. I didn't know my options for after doctoral research until I interacted with people with entrepreneurial mindsets. 

Life as a researcher
"Every day is different for a doctoral candidate. Some days I spend lots of time performing experiments and testing hypotheses in the laboratory, while other days I am sitting behind my laptop analysing the data. 
"The only constant thing about my PhD experience is the fact that I constantly learn new things, even when I fail. My PhD life was quite a departure from what I've experienced as an undergraduate and masters student, with much more independence and new experiences, which have helped me with my self-image and confidence.
"Participating in the Velocity 100k challenge with an idea based on my research data has been the highlight of my PhD so far. It was an amazing experience with lots of learning and networking that helped me see how my research could improve the quality of life for others. Being among the winners helped me envisage a commercialisation prospect for my research with tangible impact."

Advice for other doctoral candidates
"I highly recommend participating in Centre for Innovation and Entrepreneurship (CIE) programmes, like the brand new Doctoral Entrepreneurial Leadership Programme. I didn't know all my options until I interacted with people with entrepreneurial mindsets. I came to the realisation that academia and business may seem poles apart, but you'd be amazed by how portable your skills are between them. 
"Academia equips us with critical thinking, honed communication skills, and self-motivation, which can be transferred into the business world. As a PhD student, I am still exploring my options, and I believe having entrepreneurial skills can lead me to better options in every career pathway."
Doctoral Entrepreneurial Leadership programmme
The Doctoral Entrepreneurial Leadership programme is a free year-long programme, designed to develop doctoral candidates' entrepreneurial mindsets and skills.