Find out about Tayaza's journey from university lecturer to PhD candidate, and his research on genetic mutation and the human genome.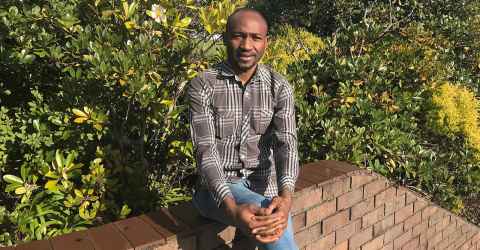 Thesis title: Modelling SNPs, genes and pathways to predict metabolic activity
Supervisors: AP Justin O'Sullivan (Liggins Institute) and Dr John Ingram (Plant and Food Research)
Faculties: Faculty of Medical and Health Sciences and Liggins  Institute
Funding: High Value Nutrition project
Tell us about your background and how you came to PhD study
"I did my BSc in Microbiology at the University of Jos, Nigeria. In my first year I learnt programming in Visual Basic 6.0. I got hooked. It later occurred to me that life and computer systems are quite similar in the sense that they are both programmable. So I sought for a way to combine my degree in Microbiology and my love for computer programming. This search lead me to University of Wolverhampton in the UK where I completed my MSc in Molecular Biology with Bioinformatics. Afterwards I returned to Kaduna State University in Nigeria, where I taught microbial genetics and helped introduce bioinformatics into the undergraduate and postgraduate curricula in the department of Microbiology.
"In 2015, I read an award-winning paper on the 3D organization of the yeast genome and thought it was cool research. I decided to write the author, Dr Justin O'Sullivan, and began a conversation about his work. Justin, along with other scientists, was about to start a research project funded by High Value Nutrition—one of New Zealand's National Science Challenge programs. I applied for a PhD position on the project and was fortunate to be offered a scholarship to participate in the research. Justin became my supervisor."
Find out more: High Value Nutrition programme.
Working at the Liggins Institute is exciting because it is a melting pot of different research disciplines [...] It is also a very multicultural environment with students and staff from all over the world working together to do research.
Tell us about your doctoral research
"I use computational methods to predict how the organisation of the human genome and genetic mutations work together to make people susceptible to complex diseases such as diabetes, obesity and heart diseases.
"My research gives an insight into how inherited DNA mutations regulate genes that are distant in the linear sequence but close enough in space to interact physically. For example, my recent work has identified novel gene regulatory connections in over 600 heritable diseases and traits. I also discovered that these diseases and traits form clusters according to the genes they share. These findings could potentially identify drugs that can be used to treat multiple diseases in a cluster if they share the same genetics and biochemical pathways. This kind of study is made possible using the huge computing resources available at our lab and the University of Auckland Centre for eResearch."
Find out more: University of Auckland Centre for e-Research.
What does research look like to you?
"My research involves mostly computer programming, reading and writing. The tools I use include Python and R programming languages, machine learning algorithms and specialised genetic datasets. Our lab also holds weekly brainstorming sessions where we discuss ideas, results and the latest trends in our research fields."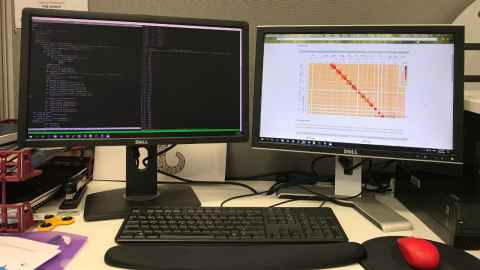 What has your wider experience of PhD life involved?
"I am fortunate to have benefitted from the university's entrepreneurial culture through the PhD Innovation and Commercialization course and the Summer Lab programme, organized by the Centre for Innovation and Entrepreneurship. Those two courses opened my eyes to other possibilities and career paths and helped me develop good relationships with great people both within and from outside of the university.
"I really enjoy working with students and staff from other departments and faculties, and helped organise postgraduate research events such as HealthEx at the Faculty of Medical and Health Sciences and Exposure at the university level.
"I have had the privilege to learn and talk about my research in conferences, workshops and other meetings both in New Zealand and abroad. These experiences helped me win the Liggins 3MT Doctoral competition in 2016 and the Paykel and Fisher Best Student Oral Presentation (Genome Biology) at Queenstown Research Week in 2017. Results from the first part of my PhD research has been published (see link below) and the second one is almost ready for submission."
Find out more: PhD Innovation and Commercialisation course / Summer Lab.
Read Tayaza's work in Frontiers in Genetics.
Have you got any advice for people starting or about to start a PhD?
"My advice for new and prospective students is to try as best as possible to enrol for a course that is at the intersection of their passions, skills and dreams. Finding this sweet spot ensures a more productive and fun PhD."