Getting used to the terms we use at Uni can feel like learning a whole new language. What's the difference between a lecture, tutorial and lab? What do you use CANVAS and MyAucklandUni for? Read on to master the lingo at the University of Auckland.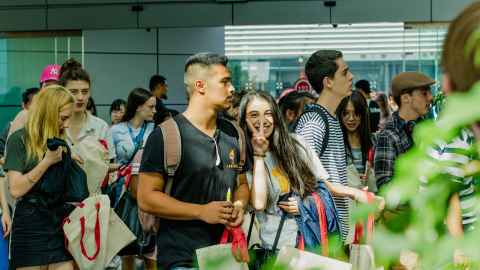 We asked our current students what lingo they had to get used to when they started here at the University of Auckland:
| | |
| --- | --- |
| Budgie Meal | A meal starting from $7.50, offered by most food outlets on campus. |
| Fridge and freezer | Lecture rooms in OGGB. |
| Gen ed | General education paper (aka one where you can study almost anything you like). A course will have a 'G' at the end if it's gen ed (e.g. Business 101G). |
| IC | Information commons (not intensive care). |
| IC0 | Level 0 of Kate Edger Information Commons, which can become a bit hectic during the final weeks of semester. |
| Kate/KE/IC (1-4) | Kate Edger Information Commons. Where Munchie Mart is and all the public computers. You can book a computer Monday - Friday: 7am-12am, and weekends: 8am - 10pm. |
| Munchie | Formally known as Munchie Mart. The glorious dairy situated in IC0 with the legendary $1.80 pies at night. |
| Quad | The outside covered area between IC and Princes Street. |
| OGGB | Owen G. Glenn Building, where the Business School is located. |
| Overheard | The Overheard @ University of Auckland Facebook group. |
| Plussage | A system that lets you get the best possible mark for a course (not offered by all courses). |
| Room numbers | The first three numbers are the building number; the second three numbers are the room number within that building, with the first number being the floor level. (e.g. 260-433; 260 is OGGB and the room is on the 4th floor). |
| Shads | Shadows Bar, your student bar on City Campus. |
| UniGuides | Current students ready to help you navigate through first year of University. You'll see them at Orientation in their iconic red t-shirts. |
And here are some more general terms you may have heard around:
| | |
| --- | --- |
| AUSA | Auckland University Students' Association. The students association located opposite Gen Lib on Alfred St. They can help you with many things such as hardship grants and student advice. |
| CANVAS | Access readings and other information about your courses and communicate with your lecturers, tutors and classmates. |
| Campus Card | The official photo ID card for all University of Auckland campuses. This is your key to life on campus. You will need it for tests and examinations, and for accessing the Library, Recreation Centre, and other University spaces. |
| Conjoint | A single qualification made up of components from two separate degrees. |
| Class | A component of a course, for example, a lecture stream. |
| Course | Formerly known as a paper, a course is an individual class which is taught and assessed throughout the semester. |
| DELNA | Diagnostic English Language Needs Assessment. A test everyone it required to do to test your English competency. |
| Elective | A slot in your programme where you need to pick a course of your choice (as long as it's approved by your programme). |
| Gen | General Library. The tall big library building on Alfred St. It's open Monday - Thursday: 8am-10pm, Friday: 8am-8pm, and weekends: 9am-8pm. |
| GPA | Grade Point Average – how we measure a student's performance numerically, between 0 (no passes) and 9 (A+ average). |
| ID | The number on your Campus Card. Usually 7 digits or more. |
| Kāhu | The official student app providing access to useful student tools and information. Use it to access your personalised timetable, interactive map, University events and student tools. |
| Lab | A practical teaching session. |
| Major | A required component of a degree, including a certain number of points in a subject at the most advanced level. |
| Minor | A component of a degree including a certain number of points above Stage I in a subject. |
| MyAucklandUni | Also sometimes called the student portal. A one-stop shop that makes it easy to see your calendar and timetables, email, notifications, course updates, library information, financial information and more. |
| Paper | Now known as a course. |
| Plan | Your major or specialisation. |
| Points | A value assigned to a course or other work to indicate its weighting within the University's certificates, diplomas and degrees. |
| Prerequisite | A required course that you must complete prior to enrolling in the one you want to take. |
| Programme | A prescribed set of one or more courses or other work, which on satisfactory completion leads to the award of a University of Auckland certificate, diploma or degree. |
| Specialisation | A coherent group of related courses from different subjects. |
| Stage | The year of study in your programme or course that you're in. It's the first number in front of your course number (e.g. ACCTG 101 is Stage 1. ACCTG 201 is Stage 2). |
| Student Hubs | Your gateway to Waipapa Taumata Rau | The University of Auckland. You can get advice on any aspect of your studies and life at University at the Student Hubs. |
| Student Services Online (SSO) | Enrol in a course, change your programme, view your exam timetable, see your grades, course history, unofficial transcript and much more. |
| Student Email | Your student email address should always end in @aucklanduni.ac.nz |
| Summer School | An extra semester from January to February where you can take 2 papers. A good opportunity to get ahead. |
| Tutorial | A small-group learning session. |
| UoACal | A programme which syncs your timetable with your phone/computer's calendar. |
| UPI | Unique Personal Identifier. Your username/login (e.g. jsmi123) |
Find out more University lingo on the Glossary page.