Workplace Insights Programme
Workplace Insights is an exciting programme designed to help international students learn more about the New Zealand workplace.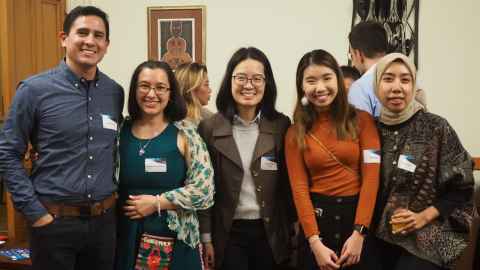 Attention all current University of Auckland international students!
Would you like to learn more about the New Zealand workplace and deepen your understanding of Kiwi culture? Have you been meaning to improve your networking and relationship-building skills? Would you like to connect with experienced professionals and like-minded international students?
We are looking for committed, energetic, and curious international students to participate in an exciting programme designed to help you experience all of the above.
To help you build your employability and prepare for the transition to the New Zealand workplace, we created a structured programme to build meaningful connections between current international students and both alumni and New Zealand employers.
Here is what our previous participants have said about the Workplace Insights Programme (WIP):
Before I joined this programme, I was not sure how to connect with people in New Zealand and build professional relationships. I considered myself to be quite shy and introverted and was not very confident about my English. Not only did the programme help me connect with exceptional professionals, but it also taught me how to build relationships in a way that works for me. I have learnt that in order to network successfully, I don't have to become a different person. If you listen to learn, open your mind, and accept new ideas, people will appreciate you just the way you are.
A friend of mine who had participated in WIP advised me to apply. Now I know why they were so enthusiastic about the programme! From the introductory activities tailored to international students to coffee chats with my volunteer, every single experience was designed to help me learn about Kiwi workplace culture and the skills I need to develop to make the most of my career. The programme is just the right combination of challenge and fun!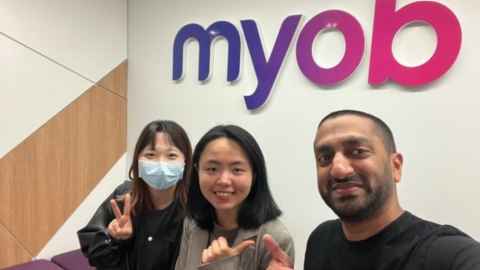 WIP is designed to help you
Build self-confidence and develop capability in networking and relationship-building
Connect with University of Auckland alumni in various New Zealand industries
Gain a better understanding of New Zealand culture and workplaces
Reflect on your approach to work and career development
How does the programme work?
At the beginning of the programme, you will engage in interactive workshops designed to help you set appropriate goals for the programme and increase your confidence and competence in the area of networking and relationship-building.
You are then partnered with University of Auckland alumni from various industries through a virtual networking event, which is hosted by us. We will endeavour to partner you with alumni from similar professional backgrounds, but this is not always guaranteed. What we do guarantee, though, is that you will have a great learning experience and grow personally and professionally.
The virtual networking event is followed by student-alumni catch-ups that you organise with your respective alumni volunteer. The alumni may also be able to offer you the opportunity to visit their workplace.
Throughout the programme, we offer regular check-ins, facilitation, guidance and individual support to help you address any potential challenges and make the most of the programme.

Who can participate?
To be eligible, you must be:
An international student currently enrolled at the University of Auckland
Currently residing in New Zealand
Committed, enthusiastic and motivated to step out of your comfort zone
Willing to maintain clear professional communication with your alumni volunteer and CDES
Able to attend all the programme events (see the dates below)
Programme schedule for Semester 1 2023
Below are the programme events that you must attend. Please note that for your convenience, we have offered a choice between two dates in some cases. In the programme application, you will be asked to select your preferred option where applicable.
| | |
| --- | --- |
| Introductory workshop Part 1 | Tuesday 14 March OR Wednesday 15 March, 1-3pm |
| Introductory workshop Part 2 | Thursday 16 March OR Friday 17 March, 1-3pm |
| Virtual meet-and-greet | Tuesday 21 March, 5-6.30pm |
| Programme debrief | Tuesday 16 May OR Wednesday 17 May, 1-3pm |
| Celebratory closing event | Wednesday 24 May, 5-7pm |
Applications close on Friday 3 March 2023 at 4pm.

This programme is a collaborative project supported by the Career Development and Employability Services (CDES), International Office, and Alumni Office.