Workplace Insights Programme
Workplace Insights is an exciting programme designed to help international students learn more about the New Zealand workplace.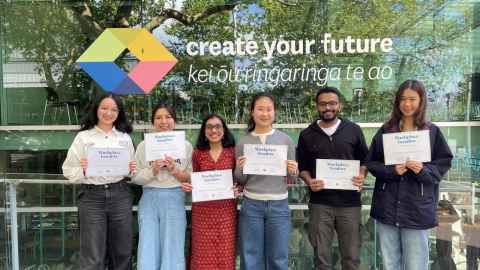 Applications for 2023 are now closed.
Attention all current University of Auckland international students!
Would you like to learn more about the New Zealand workplace and deepen your understanding of Kiwi culture? Have you been meaning to improve your networking and relationship-building skills? Would you like to connect with experienced professionals and like-minded international students?
We are looking for committed, energetic, and curious international students to participate in an exciting programme designed to help you experience all of the above.
To help you build your employability and prepare for the transition to the New Zealand workplace, we created a structured programme to build meaningful connections between current international students and both alumni and New Zealand employers.
This programme was shortlisted as a finalist in the PIEoneer Awards 2023 in the employability category.
Here is what our previous participants have said about the Workplace Insights Programme (WIP):
In a relatively short time – just under a semester – this great programme provided me with insights about the Kiwi workplace that otherwise would have taken me ages to gain. This programme really bridges the information and perception gap between what international students think about the working life in New Zealand and what the reality is.

Throughout this programme, I felt encouraged and supported to gain essential networking and professional communication skills in a safe and fun environment. At the beginning of the programme, I attend preparatory workshops with an international career consultant, which allowed me to be confident and ready to meet my volunteer. Learning from my volunteer was amazing, as I had a chance to ask all the questions – even tough ones – about working and living in New Zealand.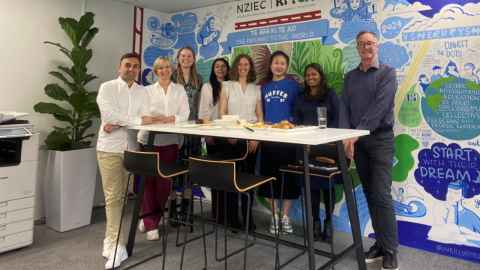 WIP is designed to help you
Build self-confidence and develop capability in professional communication, networking and relationship-building
Connect with University of Auckland alumni in various New Zealand industries
Gain a better understanding of New Zealand culture and workplaces
Reflect on your approach to work and career development
Plan how to use your knowledge and experience to take career steps that are aligned with your values and purpose
How does the programme work?
At the beginning of the programme, you will participate in two interactive workshops where you will meet other programme participants. These workshops are designed to help you set appropriate personalised goals for the programme and increase your confidence and competence in the area of networking and relationship-building.
You are then partnered with University of Auckland alumni from various industries through a virtual networking event, which is hosted by us. We will endeavour to partner you with alumni from similar professional backgrounds, but this is not always guaranteed. What we do guarantee, though, is that you will have a great learning experience and grow personally and professionally.
The introductory virtual networking event is followed by student-alumni catch-ups that you organise with your respective alumni volunteer. The alumni may also be able to offer you the opportunity to visit their workplace.
Throughout the programme, we stay in touch with our student and alumni participants to offer regular check-ins, facilitation, guidance and individual support. We will be here to help you address any potential challenges and make the most of the programme.

Who can participate?
To be eligible, you must be:
An international student currently enrolled at the University of Auckland
Currently residing in New Zealand
Committed, enthusiastic and motivated to step out of your comfort zone
Willing to maintain clear professional communication with your alumni volunteer and CDES
Able to attend all the programme events (see the dates below)
Programme schedule for semester two 2023
Below are the programme events that you must attend. Please note that for your convenience, we have offered a choice between two dates in some cases. In the programme application, you will be asked to select your preferred option where applicable.
| | |
| --- | --- |
| Introductory workshop Part 1 | Tuesday 1 August OR Wednesday 2 August 1-3pm |
| Introductory workshop Part 2 | Thursday 3 August OR Friday 4 August 1-3pm |
| Virtual meet-and-greet | Tuesday 8 August 5-6.30pm |
| On campus programme debrief | Wednesday 11 October OR Thursday 12 October 1-3pm |
| On campus celebratory closing event | Wednesday 18 October 5-7pm |
How to apply
Applications for 2023 Semester 2 are now closed.
This programme is a collaborative project supported by the Career Development and Employability Services (CDES), International Office, and Alumni Office.