Learning support transformative: Meet Ruth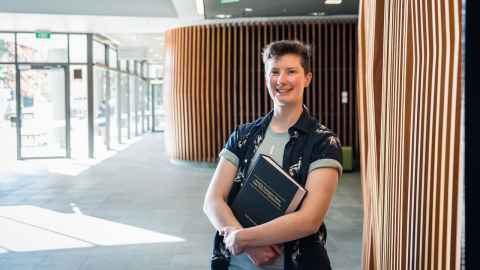 Despite hard graft and a stellar academic history, Ruth found it hard to keep up with studies at the Faculty of Medical and Health Sciences and frequently felt anxious and overwhelmed.
A neurodiversity diagnosis helped Ruth (they/them/their) access crucial support from the Equity Office's Student Disability Services, and now Ruth has graduated with a doctorate.
Student Disability Services referred Ruth into Inclusive Learning during their doctoral studies and that support proved transformational.
One of the most helpful things I found about seeing an Inclusive Learning advisor was how the support they provided was flexible and completely tailored to my specific situation and challenges.
The Inclusive Learning adviser introduced Ruth to organisations that provided assistive technology like noise-cancelling headphones and helped them acquire workplace adjustments.
Inclusive Learning had an endless supply of strategies and tips that helped Ruth work efficiently and complete their PhD, a goal that once seemed impossible.
Ruth is now a postdoctoral research fellow in the FMHS' Centre for Brain Research, focusing on identifying new therapeutic compounds for Parkinson's disease.
Ruth only wishes they had that support earlier and wants other students to know Student Disability Services can help at any stage of their studies.
Perhaps inspired by their desire to understand their own brain better, Ruth was passionate about studying the brain throughout their undergraduate studies.
Despite this enthusiasm and support from Student Health and Counselling, Ruth continued to struggle with learning throughout their degree. Ruth is grateful to their GP, who referred them into community mental health services and supported them throughout their time as a student.

I struggled to focus, I was distracted by every sound and movement around me, and no matter how much I studied, I could not seem to absorb what I was learning.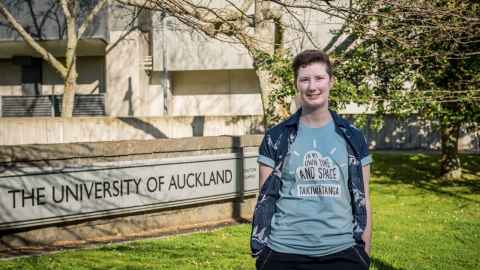 "I became increasingly anxious about falling behind despite trying as hard as I could to keep on top of everything."
Ruth was given occupational therapy support and put on the waiting list for an assessment of learning differences.
This support helped Ruth complete their Bachelor of Science in Biomedical Science and start an honours degree, hopeful a research environment would better suit their learning style.
"My ability to think of a multitude of different explanations and interpretations, while making it difficult to give a clear answer in undergrad, might be considered a strength in research."
After graduating with a Bachelor of Science (Biomedical Science) with first-class honours, Ruth remained in the faculty's Centre for Brain Research and started a PhD using a Nobel Prize-winning cell reprogramming technique to study Huntington's disease. 
Despite being incredibly passionate about my project and determined to succeed, the vastness of a four-year research degree overwhelmed me and I struggled to remain focused and organised.
Ruth was finally diagnosed with ASD (autism spectrum) and ADHD (attention deficit hyperactivity disorder) after a long wait for the assessment.
Despite now having access to medication and gaining a better understanding of their neurodiversity, they reached breaking point mid-PhD.
"I was in a constant state of anxiety as I tried to navigate communication differences, I lost all self-confidence and I struggled to advocate for myself.
"I reached out to Student Disability Services in a last-ditch attempt to salvage any chance I might have had of getting through my PhD."
The Equity Office's Student Disability Services referred Ruth to Inclusive Learning, which proved to be a game-changer.
Ruth successfully defended their thesis in 2020, attaining a Doctor of Philosophy in Biomedical Science and is currently working as a postdoctoral research fellow in the Centre for Brain Research.
Inspired by their interactions with the University's Equity Office, Ruth served as the FMHS PGSA representative on their faculty's equity committee, and is involved with the University's Rainbow Network and Staff with Disabilities and Impairments Network.
With a friend, Ruth and established a fortnightly Inclusive Learning ASD hangout group as a safe and inclusive space for autistic students.
Ruth is also involved with local autism organisations and researchers, helping to bridge the gap between autistic people and the wider autism community.
Ruth intends to remain in neuroscience research, and hopes that their accomplishments will be seen as a product of their neurodiversity, not despite it.