Diego is from Mexico and is studying for his PhD in Civil Engineering. Diego was awarded a Conacyt scholarship in 2016.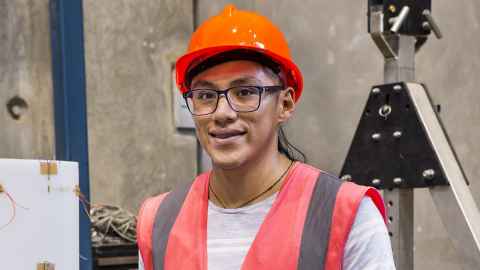 "My research focuses on the holistic response and design of liquid storage tanks under earthquake loading. I worked with storage tanks during both my bachelors and masters degrees in Civil Engineering at UNAM, the National Autonomous University of Mexico. I wanted to understand more about the seismic response of tanks so that I can contribute somehow to improving the design of those lifeline structures, especially for tanks holding oil and petrol that could be a serious threat in areas where earthquakes are common."
New Zealand offers more than high-quality education. The diverse outdoor activities and the cosmopolitan environment that we can enjoy in Auckland are priceless. In addition, my interest in expanding my knowledge about Pacific cultures was crucial to choosing the University of Auckland.
"The University of Auckland academic staff are friendly and helpful, and the cultural diversity in the University is incredible. I have made many friends, from almost every place in the world. I made a list of the people I have met and where they were from, and counted more than 60 countries!"
"The best thing about living in Auckland is the outdoors. It is amazing how within a few hours' drive from Auckland the landscape changes. In my spare time, I try to balance 'real' life and my studies. I joined some of the University's clubs and with the Auckland University Tramping Club I have been to diverse places and learned a lot about New Zealand wildlife.
"If you enjoy exploring nature, studying in a high-quality institution and learning about different cultures, New Zealand is a great option. It might be hard, but it is definitely worth it."