Biomedical Engineering combines engineering, medicine and biology to improve the quality of our lives by resolving challenges in the healthcare industry.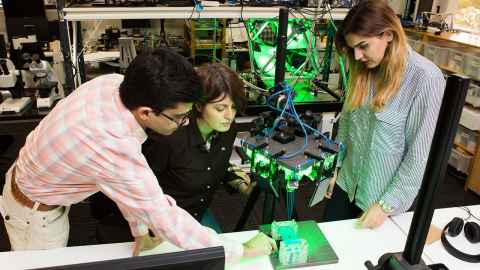 Subject overview
As the role of technology becomes more crucial to the healthcare industry, biomedical engineers find themselves at the forefront of life-changing research. This multidisciplinary area involves the analysis of biological functions, their treatment and their repair.
Taught as an undergraduate specialisation within the Department of Engineering Science, Biomedical Engineering encompasses, for example, medical imaging, biochemical and mechanical measurements, electronics, high-performance computational engineering, and testing. The aim is to create and refine models, therapies and devices. Those topics – and many more – are applicable to a variety of pursuits, including:
analysing data for empirical diagnosis and treatment of diseases
modelling musculo-skeletal systems for sports biomechanics and injury assessment
constructing new cardiac pacemakers in the medical device development industry
finding ways to improve our primary industry with animal bioengineering models
All our BE(Hons) specialisations are accredited by Engineering NZ, so your qualification will be recognised in many countries. Specialising in Biomedical Engineering also gives you the opportunity to gain access to experts and equipment at the Auckland Bioengineering Institute.
Where can Biomedical Engineering take you?
Biomedical engineers tend to gain employment in the medical and healthcare sectors and biotechnology industries. They also take on roles in research or regulatory institutions. They are an asset in coordination and interfacing positions because they understand both engineering and medical science.
Much of the biomedical engineering landscape – especially within New Zealand – currently remains uncharted. Opportunities therefore exist for exploration and innovation. This extends to postgraduate research in Bioengineering at the University of Auckland or overseas.
Explore your study options in Biomedical Engineering