Doctoral study in Chemical and Materials Engineering
Research opportunities
Pursuing a PhD at our University gives you access to a high-calibre research community – you may have the opportunity to publish papers, attend international conferences and develop your network in academia and industry. The Department of Chemical and Materials Engineering is home to recognisable researchers in a variety of applicable fields – from food to biomaterials – so you'll be able to take advantage of the best knowledge we have to offer.

Our areas of research expertise include:
Energy and the environment, including water, thermal management, energy storage, chemical processes in environmental clean-up, new technologies for conversion into biofuels and valuable chemicals, and the management and reutilisation of waste materials
Food and nutrition, with focus on new technologies in processing and treatment, as well as investigations into microstructure and properties
New and novel materials, with research into all classes – light metals and alloys, polymers, composites, biomaterials, nanomaterials, and more – to understand their properties, performance, and applications from healthcare to industrial use
Innovative processes and process control, including membrane separations to recover and recycle valuable materials, microfiltration, ultrafiltration and nanofiltration, improvement of waste treatment with advanced oxidation technologies, and efficient energy management tools

Our people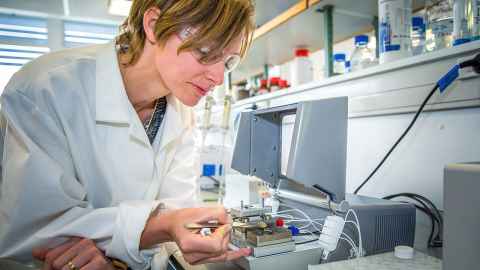 Dr Jenny Malmström
Dr Jenny Malmström's interdisciplinary research examines the interfaces between biology, chemistry and materials science. Her expertise includes the characterisation of material-biomolecule interactions and the influence of surface properties of cell adhesion onto substrates, with applications ranging from the creation of smart materials to the control of cellular behaviour. She has been named a Rutherford Discovery Fellow in 2016 and awarded a Marsden Fast-Start grant for her research into better ways to grow stem cells. She is also a Principal Investigator of the MacDiarmid Institute for Advanced Materials and Nanotechnology.
More researchers in Chemical and Materials Engineering:
Past research topics
Scholarships and awards
Help and advice
For general student enquiries, please contact the Student Hubs.
If you would like to find out more about studying Chemical and Materials Engineering, you can contact a Postgraduate Adviser.

Apply for doctoral study