Civil Engineering is about the creation, improvement and protection of the environments we live in.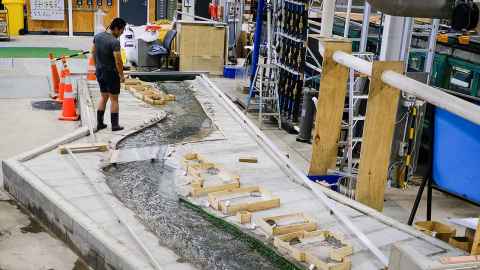 Subject overview
Civil Engineering teaches you about the effective planning, design and construction of the built environment. This includes the working and living spaces people depend on, as well as critical infrastructure such as motorways, bridges, tunnels and dams. The many and varied elective courses available within Civil Engineering encourage you to find a path that resonates with your own interests.
This specialisation gives you the chance to see how you can shape the world we live in. In topics with an environmental focus, you will learn how to design, develop and evaluate structures, equipment and systems to provide practical solutions to problems caused by increasing consumption and waste.
Some of the topics you can study in Civil Engineering include:
Structural Dynamics
Seismic Design
Traffic Engineering
Fluid Mechanics
Construction Management
Geomechanics
Where can Civil Engineering take you?
Civil and environmental engineers are needed for expanding cities and new construction to meet the demands of rising populations throughout the world. As planners, they envision the future, especially in terms of how and where we will live and how we will travel. Studying Civil Engineering can lead to varied careers in both the public and private sector. The frequent redevelopment of ageing infrastructure and a desire to rectify and minimise humans' impact on the environment will sustain demand for skilled civil engineers. Our graduates have found employment in engineering consultancies, environmental agencies, government departments and as designers and advisers for engineering projects. You can also use an engineering qualification and background as a stepping-stone into other careers.
Explore your study options in Civil Engineering
Doctoral study