Clinical Exercise Physiology
Clinical Exercise Physiology focuses on the application of exercise to people with a range of health conditions.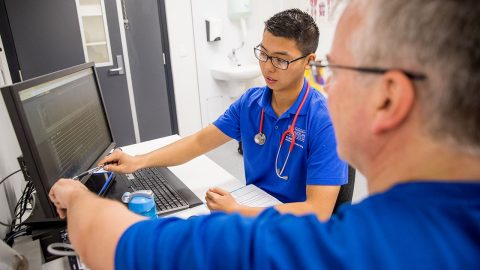 Subject overview
Clinical Exercise Physiology is the science used to assist individuals to develop, maintain or improve physical function using a prescribed evidence-based approach to exercise and/or rehabilitation.
Alongside coursework, practical experience is gained at the University of Auckland's well-equipped Exercise Sciences Health and Rehabilitation Clinic. You will be part of a clinical team that provides individual assessment to clients.
People who seek the service of a Clinical Exercise Physiologist are often referred by their health care professional to find relief from a wide range of chronic conditions including: heart disease, hypertension, peripheral vascular disease, lung disease, stroke, multiple sclerosis, cerebral palsy, arthritis, metabolic and neuromuscular disorders.
We live in a society that is aging. Alongside the effects of our modern and sedentary lifestyles, we have a growing population that is putting increasing demands on our health care services. Clinical Exercise Physiology concentrates on creating rehabilitative or preventative programmes for this high-risk clinical population.
In 2015 the US Commission on Accreditation of Allied Health Educations Programs (CAAHEP) accredited our Clinical Exercise Physiology programme. This level of accreditation is the highest available internationally and means that graduates of the masters programme are able to sit the American College of Sport Medicine exam to become a registered clinical exercise physiologist.
Where can Clinical Exercise Physiology take you?
Clinical exercise physiologist's can be found working in hospitals, clinics, fitness centres and sporting bodies, or in private practise.
Explore your study options in Clinical Exercise Physiology