Clinical Exercise Physiology
Clinical Exercise Physiology focuses on the application of exercise to people with a range of health conditions.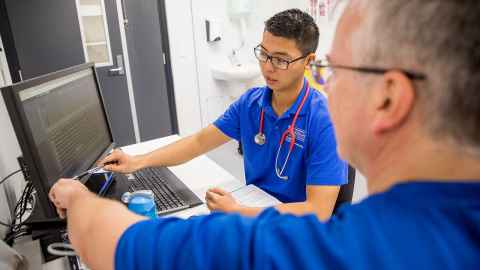 Subject overview
Clinical Exercise Physiology is a science-based discipline focused on understanding the influence of pathology on acute and long-term responses to physical activity and exercise.
Alongside coursework that focuses on physiology, rehabilitation and the science of exercise, practical experience is gained at the University of Auckland's well-equipped Exercise Sciences Health and Rehabilitation Clinic.
From the earliest stages of your programme, you will be actively engaged in providing rehabilitative exercise programme guidance to clients. As part of a clinical team, you will learn to design and implement prescriptive exercise rehabilitative programming to assist people with chronic health conditions to develop, maintain or improve physical function. 
Where can Clinical Exercise Physiology take you?
Clinical exercise physiologists can be found working in hospitals, clinics, fitness centres and sporting bodies, or in private practice.
People who seek the service of a clinical exercise physiologist are often referred by their healthcare professional to find relief from a wide range of chronic conditions. You could find yourself working with people who are struggling to live with heart disease, hypertension, peripheral vascular disease, lung disease, stroke, multiple sclerosis, cerebral palsy, arthritis, metabolic and neuromuscular disorders.
Explore your study options in Clinical Exercise Physiology