Computer Systems Engineering
Computer Systems Engineering focuses on the development of both software and hardware skills for designing and building the smart products that are an integral part of our wired world.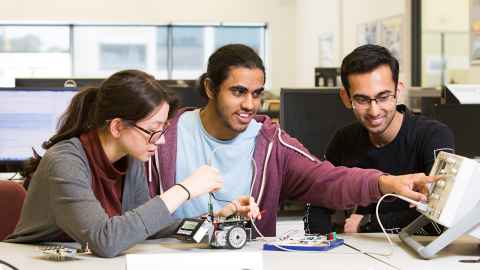 Subject overview
Computer systems now pervade almost every aspect of our world. Computers are hidden within a vast number of electro-mechanical environments, and this ubiquity is only expected to increase. This specialisation is particularly known to affect the fields of robotics, autonomous vehicles, medical devices, industrial automation systems and smart technologies. Their practitioners are diverse, with understanding in areas that range from bioengineering to software development.

This specialisation is offered by our Department of Electrical, Computer, and Software Engineering, who encourages industry partnerships at all study levels, so students and graduates benefit from contributing to a wide range of global industries. The department is also strongly connected to world-class experts and facilities, including the Centre for Automation and Robotic Engineering Science and the Embedded Systems Research Group.

Computer systems engineers solve problems by creating systems that possess a computer embedded within a large operation. With knowledge in hardware and software, they ensure that these products can make decisions and function in the real world. Graduates are therefore equipped with practical skills that do not conform to current technological trends, but future-proofed knowledge that will ensure that they can be at the forefront of change in industry.
Where can Computer Systems Engineering take you?
Computer systems engineers are unique, as they understand the principles underpinning the hardware of computing and embedded systems technology, as well as the software that makes it "smart". This means that opportunities are as vast as the rapidly expanding industry areas where innovative design and product development are prominent. The rising prominence of objects connecting to each other – the Internet of Things – also suggests a stronger need for competent computer systems engineers with in-depth knowledge. Our graduates usually work for multinational computer companies, consulting firms, telecommunications agencies, or in research and development teams involving new intelligent systems, manufacturing, and resource planning.
Explore your study options in Computer Systems Engineering