Doctoral study in Computer Systems Engineering
Research opportunities
Pursuing a PhD at our University gives you access to a high-calibre research community – you may have the opportunity to publish papers, attend international conferences and develop your network in academia and industry.
We welcome research proposals in topics relating to our key areas, including:
Embedded systems, with emphasis on hardware/software design, real-time systems, low-power design, application-specific processors, system-level languages and compilers, ubiquitous and wearable computing, smart sensors, medical devices, intelligent transportation systems, the Internet of Things, and hardware acceleration of artificial neural networks
Robotics, focusing on areas such as human-robot interaction, software systems and tools, and applications in essential sectors such as healthcare and agriculture
Digital health: modelling biological cells, pacemaker testing, and emulating human organs on Field Programmable Gate Arrays
Ultra high speed computations: advanced techniques for processing high bandwidth datastreams and big data
Software methodologies: Agile and Lean techniques, data-mining, cloud computing, and scalable machine learning
Applied Deep Learning, focusing on impaired speech processing and recognition systems, and intelligent health diagnostic and screening systems
Our people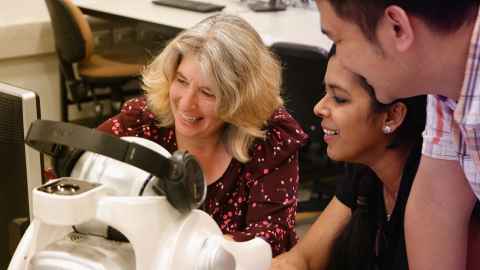 Associate Professor Catherine Watson
Associate Professor Catherine Watson has been working in the field of speech processing for nearly 30 years. Her research focus is speech production in machines and people, with a particular interest in the acoustic phonetics of New Zealand English (NZE) and Te Reo Māori. She also does research in intonation, creating NZE and Te Reo voices for speech synthesis, voice morphing, emotion, speech for robots and visual feedback for speech pronunciation and voice quality. She is interested in both modelling the vocal tract and the glottal source. She had three Marsdens: two on sound change in Te Reo, and one on sound change in NZE.
More researchers in Computer Systems Engineering
Past research topics
Scholarships and awards
Help and advice
For general student enquiries, please contact the Student Hubs.
If you would like to find out more about studying Computer Systems Engineering, you can contact a Postgraduate Adviser.

Apply for doctoral study