Doctoral study in Mechatronics Engineering
Why study with us?
The highest-ranked engineering faculty in New Zealand and 88th in the world (QS World University Rankings by Subject, 2019)
Opportunities to be supervised by, and to work together with experts from various backgrounds, most of whom have international collaborators and involvements in commercialisation work. Our research is multidisciplinary by nature, contributing to a strong innovation culture.
Access to Postgraduate Research Student Support (PReSS) funding for research expenses
Research opportunities
Pursuing a PhD at the University gives you access to a high-calibre research community – you may have the opportunity to publish papers, attend international conferences and develop your network in academia and industry.

We welcome research proposals in topics relating to our key areas, including:
Medical devices and technologies, which involves cutting-edge research, development and translation of innovative medical devices and technologies to clinical and commercial uptake
Neural Engineering, a multidisciplinary field of engineers, scientists, and clinicians who aim to understand, repair, replace, and enhance the nervous system
Robotics, research focusing on solving real-world problems by employing robotics science and technologies
Smart Materials and Structures, the incorporation of smart materials into the design of mechatronic systems
Get in-depth details on Mechatronics research in the Department of Mechanical Engineering.
Our people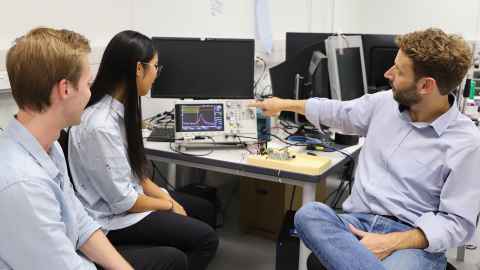 Dr Luke Hallum
The interdisciplinary research of Dr Luke Hallum (right), pictured here with students Lucy Yan and Matt Carleton, is at the interface of engineering and neuroscience – neural engineering. His expertise and interests include electrophysiology (single-neuron measurements in the brain's cerebral cortex, and electroencephalography of cortical activity), neural prosthetics such as retinal prosthesis, and machine learning for decoding brain signals.
More researchers in Mechatronics Engineering:
Past research topics
Scholarships and awards
Help and advice
For general student enquiries, please contact the Student Hubs.
If you would like to find out more about studying Mechatronics Engineering, you can contact a Postgraduate Adviser.

Apply for doctoral study