Nuclear medicine is a medical imaging modality that uses radioactive tracers to assist with the diagnosis and treatment of diseases in the human body.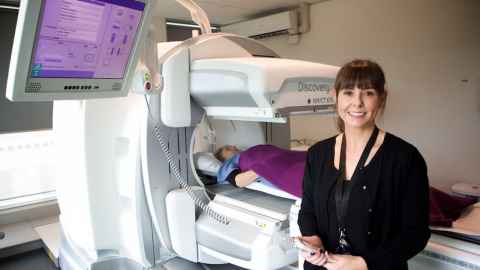 Subject overview
Nuclear medicine is a people-orientated discipline and integrates aspects of health sciences and imaging technology. Nuclear medicine technologists are health professionals who utilise their knowledge of human physiology, pathology, technology, physics and chemistry in order to obtain images of optimal quality. These images provide both structural and physiological information on almost any organ of the body.
Nuclear medicine is a patient-centred profession. The role involves acting as an advocate for patients, displaying a high level of professionalism and functioning as part of a multidisciplinary team. Nuclear medicine technologists are required to perform high-quality imaging procedures and ensure holistic patient care.
The role of the nuclear medicine technologist is ever-changing with the introduction of more complex technologies, increasing demand on clinical imaging services and ongoing educational opportunities.

The University of Auckland offers the only nuclear medicine qualification in New Zealand that can lead to professional registration. Graduates of the Postgraduate Diploma in Health Sciences (Nuclear Medicine) will be eligible for registration with the regulatory body, the New Zealand Medical Radiation Technologists Board (MRTB), in the Nuclear Medicine scope of practice.
Where can Nuclear Medicine take you?
Nuclear medicine technologists work primarily in mid-to-large-sized hospitals and private radiology departments, contributing to the improvement of clinical health services by applying their specialised knowledge and expertise within medical imaging.

Nuclear medicine is a highly specialised career, with New Zealand-trained technologists in demand around the world.

If you work in a related field and are unsure of whether you would fit the criteria for this specialisation, please contact Student Hubs.  
Explore your study options in Nuclear Medicine