Mammography is a medical imaging modality that uses x-rays to screen for breast cancer and to obtain diagnostic images of the breast.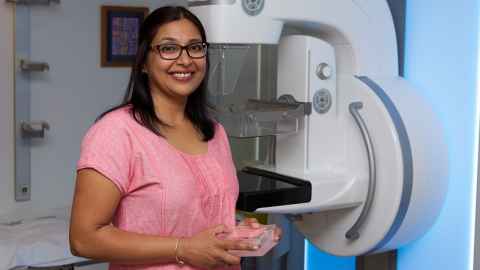 Subject overview
Mammography is a people-orientated discipline and integrates aspects of health sciences and imaging technology. Mammographers are qualified medical imaging technologists (MITs) specialising in diagnostic and/or BreastScreen Aotearoa (BSA) breast imaging services. This career pathway is also suitable for radiotherapists wishing to enter diagnostic imaging and work within BSA.
Mammography is a challenging but rewarding clinical environment to participate in and is highly patient-focused. Mammographers require a sound understanding of the technical aspects of imaging breast anatomy and pathology, whilst addressing the emotional requirements of client care and communication. The role involves acting as an advocate for patients, displaying a high level of professionalism and functioning as part of a multidisciplinary team. 
Where can Mammography take you?
Mammographers work primarily in Breast Screen Aoteraoa (BSA) clinics, private radiology departments and public hospitals, contributing to the delivery of excellent breast imaging services by applying their specialised knowledge and expertise within Medical Imaging.
If you work in a related field and are unsure of whether you would fit the criteria for this specialisation, please contact Student Hubs.  
Explore your study options in Mammography