Medical Imaging is a patient-centred discipline, using a range of technologies to produce diagnostic images and provide imaging guidance in interventional procedures.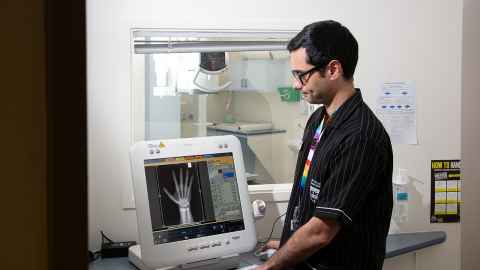 Subject overview
Technology in healthcare is rapidly evolving, bringing with it many opportunities for careers in the field of medical imaging.
Medical imaging involves in-depth knowledge of human anatomy, physiology and pathology, patient positioning and imaging techniques, physics and radiation physics, as well as the safe use of imaging equipment and radioactive materials.
Medical imaging is a patient-centred profession. The role involves acting as a patient advocate, displaying a high level of professionalism, and functioning as part of the multidisciplinary team. Medical imaging technologists (MITs) are required to perform high quality diagnostic imaging procedures and ensure holistic patient care. 
To enter into medical imaging, you must first complete undergraduate study. The Bachelor of Medical Imaging (Honours) (BMedImag(Hons)) is available at the University of Auckland.
From there, you can enter into postgraduate study in a specialisation such as Mammography, Magnetic Resonance Imaging (MRI), Nuclear Medicine or Ultrasound.
Postgraduate study in medical imaging is designed for practising medical imaging technologists:
Seeking professional development opportunities
Considering a change of direction towards modality specialisation*
Wanting to develop skills for advanced practice
Returning to clinical practice after being away from the profession for some time
*It is also possible for prospective students with an undergraduate degree from a biomedical science related field or allied health profession to complete some of the medical imaging courses and be considered for the imaging specialisation programmes. To be considered for this option, the Medical Imaging team must ascertain your eligibility first.
Our learning and teaching is research-led and utilises the latest subject knowledge and pedagogy. Students are encouraged to learn collaboratively, both with and from their peers and our academic teaching team.  
Where can Medical Imaging take you?
Medical imaging is ever evolving, and with that comes widely varied opportunities, career paths and future study. As a Medical Imaging Technologist, you play a large part in diagnosing patients using the latest technology and procedures.
Medical imaging technologists can work in a variety of roles either in public hospitals or private radiology practices. Most will begin their career in general radiographic imaging (x-ray) with opportunities to also work in computed tomography (CT), angiography and mammography.
MITs may subsequently choose to pursue additional postgraduate studies to practise in specialisations such as MRI, ultrasound and nuclear medicine. The role of the MIT in all of these imaging modalities is ever changing with the rapid advancement of technology.
Other career opportunities include roles such as sales managers or clinical application specialists with medical imaging equipment vendors, or management positions in medical maging departments. MITs can also opt to pursue an academic career engaging in teaching and research. 
Explore your study options in Medical Imaging