Being a pharmacist involves much more than counting pills. It is an ever-evolving profession focused on helping New Zealanders make the most of their medicines.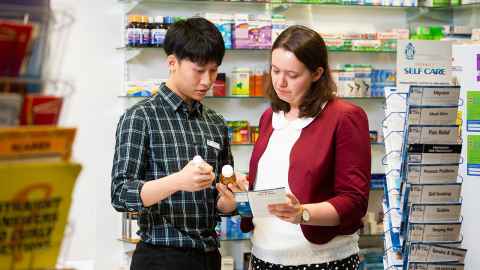 Subject overview
Pharmacy has evolved over the years to where pharmacists now also utilise their skills for immunisations, health checks and monitoring. They deliver enhanced services in collaboration with other members of healthcare teams. 
Modern pharmacy education extends beyond traditional pharmacy education by shifting the focus from just drug chemistry and delivery to encompass how patients use medicines and how pharmacists can optimise patient care through interaction with other health professionals.
Pharmacy can be studied at undergraduate and postgraduate levels. You first need to complete your undergraduate study and then you are able to progress to postgraduate study, which further expands your career opportunities.
Where can Pharmacy take you?
Pharmacists work in a range of industries related to the manufacture, prescription and provision of medicines:
Government agencies: regulating the quality and availability of drugs
Pharmaceutical companies: researching and trialling new compounds
Community and hospital pharmacists liaise with the public and other health professionals on the safe and effective use of medicines

Explore your study options in Pharmacy