Doctoral study in Pharmacy
Why study with us?
The Faculty of Medical and Health Sciences is New Zealand's leading provider of tertiary education in the health field and the country's largest centre for medical and biomedical research.
The School of Pharmacy is one of two pharmacy schools in New Zealand.
Research in the school falls into one of four broad themes: drug delivery systems, medicines-related outcomes, neuropharmacy and scholarship of teaching.
Our research themes are led by staff who are internationally recognised experts and highly regarded researchers. We are experienced working at the cutting-edge of research and our postgraduate programmes are innovative and designed to ensure our graduates remain in high demand, both here and overseas.
Our research is often performed in collaboration with industry, local healthcare providers and other academic disciplines within and beyond the University, both nationally and internationally.
Research opportunities
Conduct your PhD research in Pharmacy with us. We undertake research across four main themes: medicines-related outcomes, neuropharmacy, drug delivery systems and the scholarship of teaching.
Some of our research interests/projects include:
Brain imaging drug action in the central nervous system with EEG and fMRI
Cultural competence and health literacy
Facilitation of learning in pharmacy education
Gene therapy and biotechnology
Health informatics
Health services research
Herbal and other 'traditional' medicines and other natural health products
Mechanisms of antidepressants
Nanotechnology
Pharmaceutical policy
Pharmacoepidemiology
Psychopharmacology
Rational use of medicines
Research into the design of teaching curricula
Stimulus-responsive drug delivery systems
Substance misuse and addiction
Targeted drug delivery
If you are interested in conducting a research project with us, please contact the department's Postgraduate Adviser Dr Suresh Muthukumaraswamy pharmacy_phd@uoa.auckland.ac.nz
Every doctoral student receives money into a PReSS account each year to help fund their research. Many of our supervisors have funded projects from granting bodies and/or through commercial contracts.
Our people
Pursue your topic with us and benefit from exceptional standards of support and supervision from internationally recognised researchers.
Featured supervisor
Associate Professor Jo Barnes
Jo Barnes is Associate Professor in Herbal Medicines in the School of Pharmacy. Her research is broadly focussed on the use, safety and efficacy of herbal and other 'traditional' medicines and other natural health products (H&TMs/NHPs).
Dr Barnes's specific areas of research interest and activity include:
Drug safety/pharmacovigilance  

Pharmacovigilance (safety monitoring) of H&TMs/NHPs
Pharmacoepidemiological methods for monitoring safety of H&TMs/NHPs
Pharmacists' and other healthcare providers' professional practices and experiences regarding H&TMs/NHPs and users of these products
Perceptions and behaviours of users of H&TMs/NHPs; H&TMs/NHPs interventions to aid smoking cessation
Associate Professor Barnes has a PhD in Pharmacy (University of London, UK), and a postgraduate certificate in pharmacovigilance and pharmacoepidemiology (London School of Hygiene and Tropical Medicine, UK). Associate Professor Barnes is a registered pharmacist in New Zealand, and is deputy Head of School.
Other supervisors:
Dr Trudi Aspden
Research interests: Scholarship of teaching and learning in pharmacy, community pharmacy, healthcare disparities.
Dr Nataly Martini 
Research interests:medication management, clinical decision making, simulation-based education, future of pharmacy.
Dr Rhys Ponton
Research interests: Drug policy, drug misuse, treatment of drug dependence, pain treatment in chronic pain.
Associate Professor Jeff Harrison
Research interests: Cardiovascular medicine, evidence-based medicine, computerised decision support, medication safety.
Professor Janie Sheridan
Research interests: Addictions (alcohol, other drugs and tobacco), primary care and the management of substance misuse, drug policy.
Dr Sara Hanning
Research interests: Development of dosage forms for children, pharmaceutical sciences in clinical practice.
Dr Manisha Sharma
Research interests: Novel drug delivery systems, implants, analytical method development, protein extraction, purification and characterisation.
Associate Professor Jingyuan Wen
Research interests: Formulation and drug delivery, nanotechnology and lipid-based system, drug transport across GI tract and blood brain barrier.
Associate Professor Zimei Wu
Research interests: Preformulation, formulation design, conventional and novel drug delivery systems, liposomal formulation and clinical applications, injectable formulation of poorly water-soluble drugs.
Associate Professor Darren Svirskis
Research interests:Controlling pain after surgery, spinal cord injury, drug delivery systems,
microelectrode arrays, brain:machine interface

Dr Louise Curley
Research interests: Brain imaging, EEG, fMRI, risky behaviour, effects of drugs on cognition, community pharmacy.
Associate Professor Suresh Muthukumaraswamy
Research interests: Brain imaging, EEG, fMRI, TMS, psychopharmacology, antidepressants, major depressive disorder.
Dr Sachin Thakur
Research interests: stimuli-responsive drug delivery, posterior eye disease, hydrogel formulation, microbubble-based delivery systems
Associate Professor Shane Scahill
Research interest: applying management concepts such as organisational culture, entrepreneurship, AI and technology disruption to pharmacy practice research.
Dr Joanne Lin
Research interests: brain imaging, EEG, MRI, neuroinflammation
Dr Mohammed Mohammed
Research interests: Medicines and health outcomes, medication-related burden, deprescribing, patient-reported outcomes/measures, medication safety, health informatics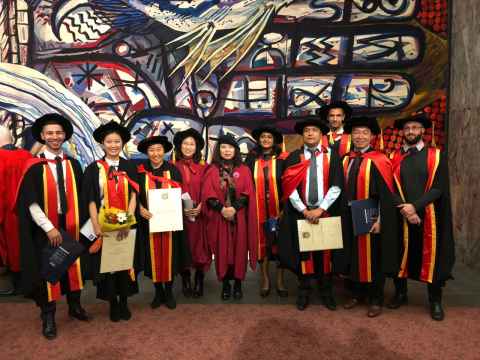 Past research topics
Some examples of recently completed research degrees from the School of Pharmacy include: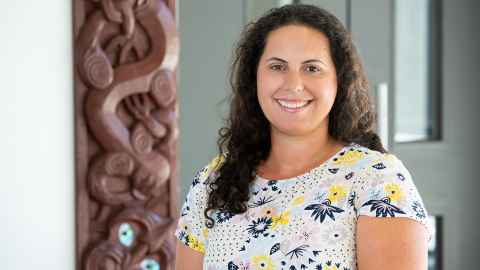 Experience doctoral study
Joanna Hikaka
Doctoral candidate
"After 15 years working primarily as a clinician, I have loved the opportunity to undertake further research within the PhD programme. I have valued the time and space to rethink how we work as pharmacists and to learn new methods and techniques to be more systematic in my approach to research.
"I feel very privileged to have been invited into kaumātua hui and to sit down and discuss in depth the issues whānau have with medicines, and think about how pharmacy services can respond to these needs and help to eliminate health inequities. I am also grateful to my supervisory team, as well as other academic staff, for the generous way they share their knowledge and give their time. After completing my PhD, I would love to continue to be involved in research that supports kaumātua and to also support the development of other researchers.
"I am enrolled part-time in my PhD, which allows me flexibility to continue with some clinical work, as well as being there for my family, including my young children."
Contact us
Do you want to chat further about your studies? Contact us using the details below.
Telephone
Within New Zealand: (09) 923 7071
Overseas: +64 9  923 7071
Email
For general queries, please contact Student Hubs.
For more specific queries please contact Associate Professor Suresh Muthukumaraswamy.
Apply for doctoral study