Doctoral study in Surgery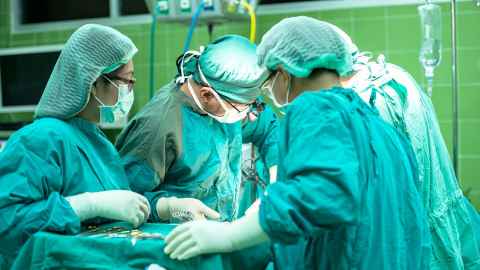 Why study with us?
Doctoral study for Surgery is administered through The Surgical Research Network.
We offer a range of excellent opportunities for full time research.
Our research encompasses laboratory science, translational research and clinical trials.  
Research opportunities
Doctoral research in Surgery falls under one of the following themes: 
Recovery after surgery
Body composition
Nutrition and metabolism
Orthopaedics
Plastic surgery
Our people
Professor Andrew Graham Hill won the the Gluckman Medal in 2016 for his outstanding contributions to research, education and service. He has supervised 20 postgraduate students and one of these, Dr Tarik Sammour, won a University of Auckland Best Doctoral Thesis Award in 2012. Professor Hill's students have won more than 30 prizes or scholarships for their research regionally and internationally. He has also mentored seven Māori or Pacific junior doctors in research towards a PhD and was awarded the 2016 RACS Māori Medal for this work.
Among many awards accorded, Professor Hill was awarded the 2014 University of Auckland Teaching Excellence Award for Research Supervision and the Royal Australasian College of Surgeons (RACS) premier research award, the John Mitchell Crouch Research Fellowship.
Professor Hill has more than 200 peer-reviewed papers with a focus on Medical Education and Perioperative Care. He also is a Reviewer for 30 journals including the British Medical Journal, The Lancet, Medical Education, British Journal of Surgery and Annals of Surgery.
Experience doctoral study
Jamie-Lee Rahiri
Doctoral Candidate
Jamie-Lee's thesis investigates Māori experiences of weight loss surgery in Auckland with particular focus in the Counties Manukau region. One of the great health inequalities facing Māori is the prevalence of obesity and obesity-related disease. Bariatric surgery is a real intervention with the potential to cure and prevent (or at least keep at bay) these conditions. But it is not without its own difficulties, and the socio-political tenets surrounding the use and acceptance of this type of surgery in New Zealand fascinate Jamie-Lee.

Scholarships and awards
You may be eligibile for a scholarship when you decide to pursue doctoral study.
Find a scholarship
Contact us
Do you want to chat further about your studies? Contact us using the details below.
Phone
+64 9 923 4888
Email
Apply for doctoral study