Teaching is about understanding how people (particularly children) learn and the best ways to support them to acquire new skills and knowledge. Teaching programmes blend theory and practice to produce classroom-ready teachers equipped to inspire a future generation.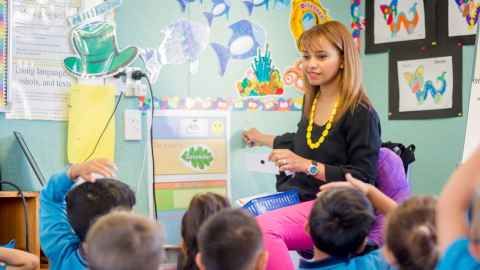 Subject overview
Teaching is a rewarding and inspiring field of study. It focuses on equipping young people to become effective learners throughout their lives and succeed in the world of work. This subject introduces you to how and why people learn, the context they are learning in and the challenges facing educators. It familiarises you with the New Zealand curriculum and the latest knowledge about teaching methodologies. Our programmes expose you to real-life classroom teaching and to best practice by experienced teachers during your practicum placements.
The University of Auckland has an excellent reputation for its Teaching programmes. We are the top New Zealand university for Education and are in the top 2% of Education programmes worldwide.
Where can Teaching take you?
Graduates of our Teaching programmes are in high demand as teachers at all levels of the education system - from early childhood education, through to Māori-medium settings, primary and intermediate, secondary schooling, adult learning and tertiary education.
In addition to teaching, our graduates are in demand for roles in:
Educational leadership, curriculum development and management
Education research
Education policy analysis or advice
Youth settings
Education programmes in the social service sector
Communication
Explore your study options in Teaching