Billing and claims resolution officer
Jerald Chan shares how the skills he learned are shaping his work in Fonterra's Global Business Services team.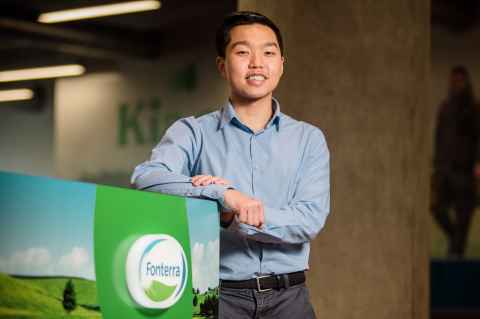 Key facts
Role: Billing and Claims Resolution Officer
Organisation: Fonterra Co-operative
Major: Global Environment and Sustainable Development
"I am currently working at Fonterra in their Global Business Services team, coordinating with consumers, milk delivery drivers and sales teams across the New Zealand and Asia markets. My role involves resolving outstanding debt on customer accounts, along with continuously looking for ways to improve current processes.
"Within my first six months at Fonterra, I've had the opportunity to engage with multiple teams and customers across the company, been a part of a business-wide project, started my own process improvement initiatives, and learned about the roots of the New Zealand dairy industry. Plus, I've tried out a few of cheese ranges Fonterra has on offer and picked up the art of crafting an appetising cheeseboard!"
A few years down the road, I see myself working with
farmers in one of Fonterra's sustainability teams so that I can be at the forefront of environmental change in the dairy sector.
"The degree stood out to me because of its call to action – make a difference, go global. We are living in a time of unprecedented change with many challenges. Significant 21st Century environmental challenges calls for 21st century solutions. I hope that I can make a positive difference in the world."