Using the Hauraki Gulf as her laboratory, Mallory is working towards her PhD in Marine Science. Postgraduate study helped her to combine her skills and make new connections.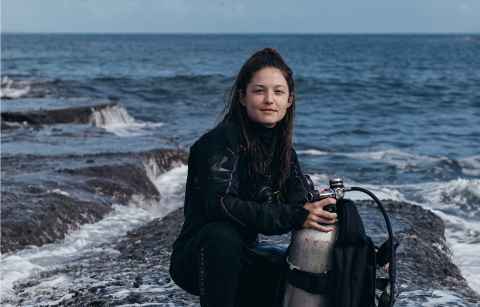 Combining my skills
"Coming from landlocked Iowa, the ocean was not a part of my life until I studied abroad in Panama during my undergraduate degree. The first time I snorkelled at the age of 21, I was hooked on the idea of field work!
"I gained relevant in-water experience as a PADI Scuba Instructor in Mexico and Hawaii before coming to New Zealand. I was also a research assistant at the Red Sea Research Center, King Abdullah University of Science and Technology (KAUST), Saudi Arabia.
"In general I enjoy the scientific process and wanted to find a way to combine my underwater skillset with academia. I was awarded a Fulbright Grant to complete a masters degree with the University of Auckland back in 2018. I enjoyed the project enough to convert it into a PhD with Professor Simon Thrush and Dr. Jenny Hillman. The project, people and place made all the difference for me.
"Scientific diving in a new environment was an exciting challenge for me, and I look back on my many hours in the field fondly. The Hauraki Gulf is a pretty great laboratory!"
"Postgrad is a great time to make connections and to try something new. Be adventurous, and don't be afraid to ask for help when you need it!"
Support at the University
"I came from a smaller university back home and was initially worried about making connections with other students and academics in a larger research setting. I was appreciative of the laid-back, collaborative atmosphere (impromptu study sessions with other students, knowing lecturers on a first-name basis, etc.) and always felt well-supported in my academic pursuits.
"I've come to accept (and even appreciate!) the variability inherent of marine ecosystems. I've become an independent thinker and am more confident in my communication skills.
"Postgrad is a great time to make connections and to try something new. Be adventurous, and don't be afraid to ask for help when you need it! (Solid time-management skills don't hurt either.)"