Sophie is studying a Bachelor of Commerce, majoring in Marketing. She speaks about her experience as a first-year student.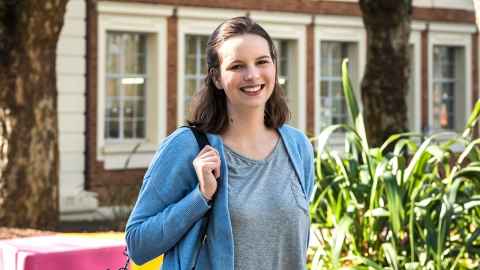 For Sophie, 19, leaving her hometown of New Plymouth and coming up to Auckland for university was an easy decision. "I love big cities and have always loved Auckland. Culturally, theres a whole heap of diversity, festivals, and events going on."
Compared to New Plymouth, she says, it's much easier to find things to do with friends. And compared to other universities in New Zealand she visited, the University of Auckland was a lot more modern in the facilities, the living spaces, and the type of courses offered. Plus, when looking at the degrees Sophie was considering - law and pharmacy among them - she felt the University of Auckland had the best programmes. It was a no-brainer.
Moving away from her family, Sophie found a different sort of family during her first year while living at O'Rorke Hall. The Hall is located just a short walk from the city campus, and only six minutes away from the General Library. 
O'Rorke is dedicated for first-year school leavers, with single-bedrooms (known as a "pod"), a range of facilities - including a game room, common areas with TVs and a floodlit basketball court - and is, luckily, fully catered. 
"You're very well looked after. The resident advisors are there 24/7, you can always talk to people, and you're really encouraged to join clubs and sports," Sophie says.
"Whether you're from Auckland or not, I would recommend a first-year hall. Sometimes you can be in a lecture with 300 people and it's not as easy to make friends. Here, it's so easy to meet people you mesh with."
Now living at Carlaw Park Student Village - flatting with three other students - for her second year, Sophie finds it's a quieter existence. "But that first year was so much fun."
Even though you're surrounded by people, homesickness is expected. "It hit me about six months into last year - I was really homesick. But nowadays it's so easy to pick up the phone, or Skype or Facetime, and going home is easy. you're going to get homesick, but first-year halls are a really nice way of moving into adulthood."
Sophie's main advice to high school students entering university is to stop, breathe, and look after yourself. "In first year, it's hectic. It's so much fun, it's amazing, it's like nothing else. But it can be overwhelming. That's something that took me a while to really understand, that you have to take time for yourself. So now I do concert band."
As for her favourite things about Auckland, that's easy. "I really enjoy the parks. It might be a strange thing coming from someone from Taranaki, which is all sheep and fields. But it's kind of homely for me."
Meet more students
Our blog, The Inside Word, is written by our first-year students who share everything you want to know about studying at the University of Auckland.