Find out how some of our past students enjoyed their New Start programme and what they are doing now.
Nishika Fernando
Studying for a Bachelor of Commerce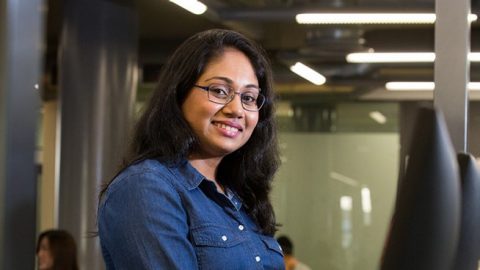 Nishika arrived in Auckland from Sri Lanka some years ago, ready to begin a new life with her family. Back home she was employed in banking and thought it would be easy to secure a job in New Zealand. However, she found only part-time employment in different organisations, working in various positions. Unhappy with her situation and wanting to pursue higher education, "I did my research and discovered New Start. I enrolled in several courses to help me pathway to the University of Auckland's Business School."
She is in her final year of her business degree, with majors in Accounting and Finance, and will graduate in 2019. Currently, she is working part-time as an Accounts assistant, "I love my job as it gives me practical and theoretical knowledge which meant I achieved good grades at university."
Nishika's advice for anyone considering the study, "Be positive and trust yourself… don't worry about what other people say - do it!"

Sally Dodds
Studying for a Bachelor of Laws and Bachelor of Arts(Hons)
For as long as I can remember, all I wanted to be was a lawyer, and this dream almost slipped away. I had a thorough streak of rebellion through secondary school. I did not finish school, leaving without even NCEA Level 1. I was meandering through several careers thereafter, before finding myself in insurance. Although I had a stable career I was unfulfilled, often daydreaming about what my options could have been, had I finished school. I genuinely believed I had shut the door on the possibility of tertiary education forever. I decided in 2014, after much discussion with family and friends, to do some research to conclusively rule it out.
This is when I was introduced to New Start. The whole process was so quick and easy, I suddenly found myself at University during the evenings after work. The experience was incredibly daunting at first but thanks to many emails back and forth with the New Start crew and many assurances I completed New Start with a Top Student Award. I absolutely loved New Start, the diversity in the subjects and the confidence I gained entirely helped me change my perception of tertiary education. I really started to believe in myself. I did not even know what Sociology was before New Start, and now I study for whole degree dedicated to it.
I began almost five years ago and I am still at University studying fulltime towards my childhood dream. I secured a clerkship at a firm that I could not even entertain the idea of working at five years ago. I also gained a wealth of life-changing knowledge throughout. My dream would not have come true without the support of the New Start team and the opportunity and guidance they gave me. Without a doubt, embarking on the New Start journey was one of the best decisions of my life. 

Roneel Rama
Completed a Bachelor of Arts and Graduate Diploma in Teaching
After finishing high school Roneel enrolled in a university degree specialising in information sciences. By the end of his second semester he realised that what he actually wanted to do was become a teacher to help guide the next generation. "When I was in school my history teacher inspired me. In history I learnt about World War I and II, New Zealand and beyond."
To change his pathway he was advised to enrol in the University of Auckland's New Start programme in 2010. On completing New Start Roneel entered the University of Auckland Bachelor of Arts degree with a major in History and minor in Ancient History. Through History he was able to see things differently, explore New Zealand history and the world.
His passion for Hollywood movies set in ancient times such as 300: Rise of an Empire and an interest in the foundation of Western democracy helped to build his imagination through Ancient History.
By the end of 2013 he successfully completed his Arts degree. He then spent another year at University to complete the Graduate Diploma in Teaching (Secondary).
In 2015 he secured his dream job as a teacher at Henderson High School. He now teaches Years 9 and 10 students and has a Year 11 form class. "Teaching is an awesome area to work in, it's so rewarding."
Roneel is the first of his generation to graduate from a New Zealand university.
Shannon Grant-Mackie
Studying for a Bachelor of Science followed by a Postgraduate Diploma in Science
My academic journey as an adult can be categorised into three periods: before New Start, during New Start, and after New Start.
Before New Start, I lacked confidence in my own academic abilities. I was afraid I wasn't "smart enough" for university study. On the day of the New Start information event, the courage that got me to the venue was quickly replaced by a fear that I didn't belong in the academic world. I never attended the event.
During New Start, I gained the confidence I so needed for future study. Through exposure to different disciplines, such as psychology and history, coupled with an emphasis on learning as a process not an outcome, New Start built the foundation I needed to not only achieve academic success but to also enjoy the journey. I graduated with a top student award.
After New Start, I entered my chosen field of study armed with the programme's academic arsenal, confident I could, through hard work, achieve what I aimed for. Throughout my undergraduate degree, the knowledge gained during New Start has proven invaluable at every step of the way. For this I am very grateful.
For anyone who feels they are not "smart enough" to study at university, I say give yourself the opportunity to prove yourself wrong. New Start has given so many students the foundation needed to achieve their academic successes and will undoubtedly continue to do so long into the future.