Being an active bystander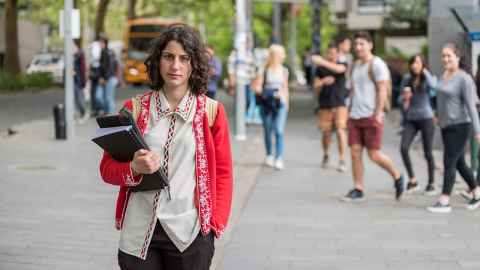 Everyone can take an active role in ending disrespectful behaviour, discrimination,  sexual, racial, gender-based harassment or family violence. It's OK to get involved, and sometimes just one action or comment can make the difference.

Be pro-active and a positive role model in your language and behaviour at all times

Speak out against jokes or comments that condone discrimination, harassment and violence

Show empathy and concern for the person who is being harassed or abused;

There may be an opportunity to ask, "Are you OK?" or "Is there something I can do?"


Take notice of what is going on around you.


Be aware of assumptions people may make about others and scenarios which may indicate intolerance or conflict

If you see problems coming up and where safe to do so, try to intervene as early as possible.

Take responsibility. Decide to be an active bystander. If you are unsure of the right move, ask others to help you work it out.

Take action. Respect everyone involved and keep your own safety in mind, and make sure you call for help if needed

Report incidents of harassment or abuse to a senior manager or to the Whistleblower Hotline

Take violence seriously. If you suspect that someone is being hurt or that there is a weapon on campus, call the police on 111
Be a safe bystander
University Security Services
Report any suspicious behaviour immediately, no matter how minor it appears, to University Security.
City campus: +64 9 373 7599 ext 85000 or 0800 373 7550
Tāmaki innovation campus: +64 9 373 7599 ext 85225
Grafton campus: +64 9 373 7599 ext 86081
Epsom campus: +64 9 373 7599 ext 44835
Read more about University Security Services
Where there is a real or imminent threat, call the police on 111.
Resources for active bystanders
These YouTube clips show why, how and when, you can intervene safely:
o  Bystander Intervention A Pow Toon video on using the 3Ds of bystander intervention; Direct, Distract, Delegate.
 o  Challenging Bias Kirwan Institute. Being an active bystander and strategies for challenging the emergence of bias.
If you would like further training in responding to family violence or opportunities to volunteer, contact one of the expert organisations.