Inside this issue of UniNews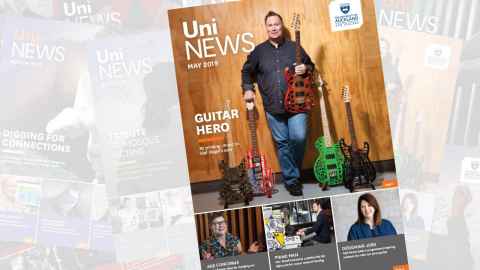 Cover story
Professor Olaf Diegel is a world expert in Additive Manufacturing (AM), aka 3D printing. He's setting up the Creative Design and Additive Manufacturing Lab at the Engineering School, the main objective of which is to teach students and industry about how to design for AM. In his spare time he creates 3D musical instruments, mainly guitars, as an impressive example of the power of AM.
Features
Design for the future: Associate Professor Deb Polson is head of the new Design School under CAI. Deb will lead the bachelors and masters programmes in design in 2020 and talks about preparing graduates for the careers of the future.
Age-old issue: Professor Ngaire Kerse loves the elderly and says it's about time society realised their value. But she also warns with an ageing population will come housing challenges.
Striking a chord: Dr Petr Tomek has found his forte not just as a scientist but as a pianist – raising funds for cancer research.
Letter from Menton: Associate Professor Paula Morris writes about her time so far as Katherine Mansfield Menton Fellow, and why it's important she visits home for the Auckland Writers Festival and the Ockham New Zealand Book Awards.
Regular sections
News
Alumna Chief Justice Helen Winkelmann has a message for law schools and the legal profession
Dr Robyn Dixon's award for nurses
Augmented Reality expert Professor Mark Billinghurst is honoured for his work
University of Auckland top of the world in the Times Higher Education (THE) University Impact Rankings.

Research
Epilepsy breakthrough: Professor Stuart Dalziel
Associate Professor Jane Allison: Big funding for research into hydrocarbons.

Art & Culture
University of Auckland alumni involved in the Auckland Writers Festival
Janet McAllister's fitting tribute to her mum, the late Heather McAllister.

Māramatanga
It's not all about the doctor: Health psychologist Professor Nathan Consedine and FMHS lecturer and psychiatrist Dr Tony Fernando reflect on compassion in medicine.