Inside this issue of UniNews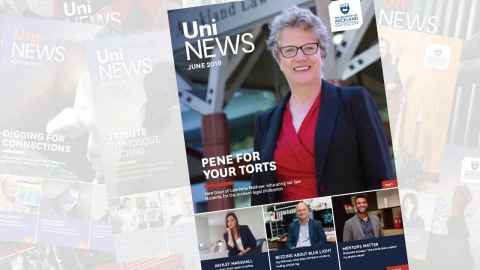 Cover story
Pene for your torts: New Law School dean Professor Pene Mathew on social justice and diversity in education.
Buzzing about blue light: Associate Professor Guy Warman and his team research the use of blue light on people having surgery and find it has a remarkable effect.
Ashley Marshall – My Story: Designer Ashley Marshall talks about her transition from Justin to Ashley and the challenges along the way.
Roger Allan Blackley Distinguished art historian: in memoriam.
Regular sections
News
Excellence acknowledged in University research
Winter Week on Campus lectures for the public: including Kim Dirks on public transport
Another way for staff to help students: the wellbeing fund
Making an impact with Volunteer Impact Week
Special scholarship for students with disabilities
Research
Associate Professor Rinki Murphy at the forefront of new diabetes research, a trial that could change treatments'
Philosophy Professor Tim Dare looks at how big data can be used to help prevent a social problem in an ethical way
Art & Culture
The Grad Gala with a difference
The Frances Hodgkins exhibition at the Auckland Art Gallery and the artworks on loan from the University
Māramatanga