Inside this issue of UniNews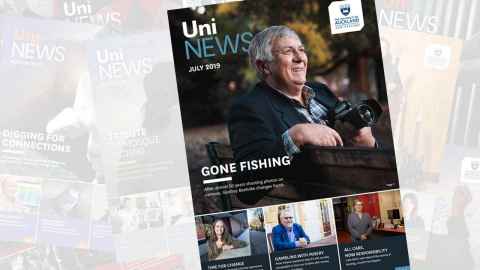 Cover story
Gone Fishing: after almost 50 years as the photographer on campus, Godfrey Boehnke is changing focus.
Features
Regular sections
News
All in for good causes – Volunteer Impact Week makes an impact
Sustainable Development Goals Summit – looking ahead
Plastic-Free July – could you give up plastic?
Breaking down the walls: Simon Devitt photography winner
Research
Coming to their senses: the Vivify headset + camera device to help young children
Survey shows strong support: NZers' attitudes to abortion analysedSeeing is believing: learning from Uganda

Art & Culture
The Slipping Away: exhibition at Gus Fisher Gallery opens 6 July
Books: New books from people associated with the University and AUP
Treasure in the proverbial: Dr Nigel Bond unearths a treasure in a glass case that has special resonance
Māramatanga
Dr Jade Le Grice: Why acknowledging Mātauranga Māori is vital when dealing with sexual violence concerns.