Inside this issue of UniNews: Dr Malvindar Singh-Bains researching Huntington's Disease; Professor Robert Scragg and vitamin D; Student Shehnaz Hussain's cookbook; Arts works with the hospital for a creative event; Plus all that's Good to Know and staff who are 'In the News'.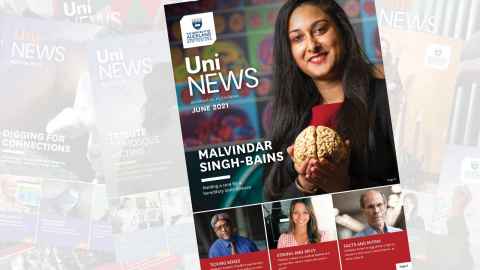 Cover story
Dr Malvindar Singh-Bains from the Centre for Brain Research would like greater awareness of how the hereditary brain disease Huntington's affects families.

Features and Regulars
It's winter so do we need to take vitamin D supplements? Professor Robert Scragg sheds light on the subject.

Issues of choice face us every day and sometimes important ones are made by ticking a box. Professor Ananish Chaudhuri says we all need to consider how information is framed.

Med student Shehnaz Hussain is putting out a cookbook to help children in India. She answers a few questions about how it came about. 
Literature is just what the doctor ordered in a new creative collaboration between the Faculty of Arts and the Auckland District Health Board.
Good to Know
All these items on PDF only
Navigator's legend comes to life (Melinda Webber) pg 8
Manaakitanga at pōwhiri for Te Kawehau Hoskins pg 4
Listen to the rain (tinnitus study) pg 4
Education vital for refugees pg 4
Engineers up for awards pg 5 
UniServices leads vaccine study Pg 5 
Healthy kai on campus Pg 5 
In the News (see page 2 of PDF)
Professor Thor Besier
Dr Nick Shears 
Dr Lara Greaves
Professor Chris Bullen
Professor Richard Easther 
New books Pg 11
Hate in Precarious Times: Mobilizing Anxiety from the Alt-Right to Brexit Neal Curtis
Women & Money: Mastering the Struggle Janet Xuccoa
Taxing the Digital Economy: Theory, Policy and Practice Craig Elliffe