Lend a helping hand to an international student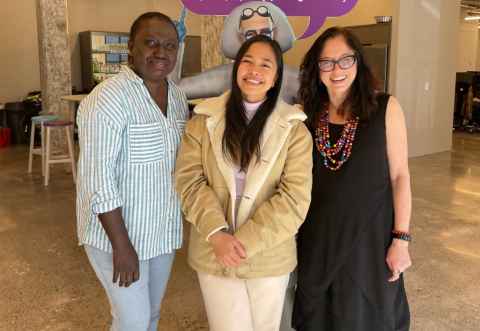 Are you an alum with at least 3 years' experience in the workforce post-graduation? Would you like to reconnect with the University of Auckland in a meaningful way and meet some interesting students and other alumni along the way? NZ Workplace Insights, a programme for international students that helps them gain a deeper understanding of the NZ work environment, needs alumni volunteers!
What it involves:
A casual 'meet and greet' session where you will meet the student(s) (conducted virtually)
A couple of hours of your time to chat to your student about your career journey and possibly show them around your workplace.
A low-key debriefing and celebration event after the programme has concluded (conducted on campus)
Timings:
Semester One 2023
21 March: Virtual meet and greet
Between 22 March and 23 May: Chat and workplace tour 
24 May: End of programme celebration on campus

What's in it for you?
Enjoy a rewarding volunteer experience.
Serve as a role model.

Build relationships and connect.
Learn about the University of Auckland student experience of today.
If you'd like to sign up for this rewarding programme please register your interest by completing the form or if you'd like to know more, email fiona.scanlen@auckland.ac.nz
Want to know first-hand experiences of the WIP?
'I originally signed up to the WIP as it is a good way to help our international students think about their next steps. Once I met them though, I realised how much I would gain from the experience. It is truly infectious to meet such capable, highly motivated and well qualified people trying to find their way in the world. I hope they got half as much out of meeting me that I did in meeting them.' - Matt Cawte, Workplace Insights volunteer (2021)
BCom graduate Philip Hadfield participated in the Workplace Insights Programme in 2018 and detailed his experience here.
See the positive impact the Workplace Insights Programme has on students like Amy below.