Peter O'Connor's seven tips for boosting creativity
If you've hit a wall on the creativity front, Professor Peter O'Connor has seven tips to get the juices flowing again.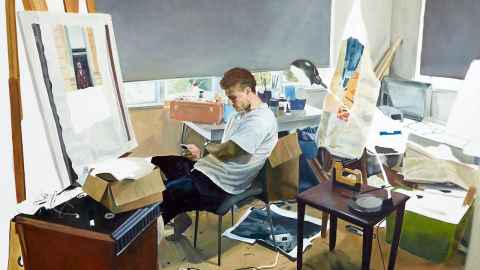 1. Find the rhythm of your creativity by engaging in things that allow your mind to wander, to make something fresh and new.
Sometimes boring, mundane things give you the space to be creative. James K.Baxter, one of New Zealand's most celebrated poets, spent his days delivering mail. How much of that time was spent thinking about and rehearsing the lines from Beyond the Palisade or In Fires of No Return? It sounds crazy – do boring things to be more creative. Wash dishes. Mow the lawn. Saunter. Let the mind wander.
2. Play with your mates.
Do things just for the sake of it, for no other reason than it gives you joy. Laugh a lot. Don't live life like it's some sort of mission, as if there is something to be gained or achieved. My father always said, 'Life is to be enjoyed not endured.' So be playful with words and gestures. Rather than walk somewhere, skip. Play word games, find the absurd in the everyday. Instead of being driven by deadlines and outcomes, be driven by the joy of being alive. Have a life that is full of imagination.
3. Surround yourself with people who say, 'Yes,' rather than 'No, but.'
Don't spend time with friends or work colleagues who rubbish something the minute it comes out of your mouth. Find people who, when you offer an idea, reply with 'What about if ?' It works the other way, too. When someone gives you an idea, say, 'Yes … and?' It is also a good idea to be generous in taking and receiving feedback. Be generous with your creativity. Being creative with others requires trust, respect and a willingness to give each other the benefit of the doubt, all the time. The only way the world has ever changed for the better is when groups of people imagine that is possible.
4. Don't be afraid to screw up and don't be fixated on the end result.
Never painted before? So what? Get the paintbrushes out for no other reason than it feels good. It might lead somewhere, it might not. You'll learn that when you're creative, you're never quite sure where it is going to lead – and that's completely fine. Rather than keeping your eye on the target, watch the arrow. Sometimes it will take you in unexpected directions and land where you least expect it to. Noticing the flight of the arrow might take you to new and unexpected places of discovery.
5. Recognise that every human is creative, including yourself.
It's not about talent and genius. We all have different ways of expressing our creativity; it can be discovered through gardening, cooking, poetry, painting, telling stories or fixing cars. Find the thing that gives you joy in the making. Find something that expresses something about you and gives something of you to others. Spend time doing it. Work is something we do, but being creative is who we are. Surround yourself with other people's creativity. Read poetry, a novel, go to a play or an art gallery. Go for a long, slow walk and as your mind wanders, revel in the beauty of nature. That's always been a way to juice up your creativity.
6. Ask questions.
Ask why something is what and how it is. Ask questions and when you have early answers, question those answers. Don't limit yourself; spend time on discovery. Ask questions that start with "I wonder..." Look at things and ask, "what if ?". Be curious about details, about the ordinary. Never settle, be restless.
7. Never think there is a limited number ...
Professor Peter O'Connor is Academic Director of the Creative Thinking Project and an expert in making and researching theatre with marginalised communities.