$5m boost to hunt for new way to control blood pressure
Half the New Zealanders being treated for blood pressure don't have it under control, says a University of Auckland researcher who has been awarded nearly $5 million from the Health Research Council of New Zealand (HRC) to look at the problem from a completely different angle.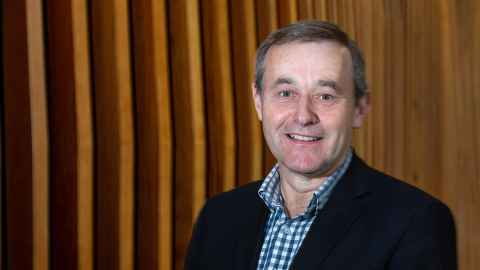 Professor Julian Paton, from the School of Medical Science in the Faculty of Medical and Health Sciences, says we urgently need a new way to control high blood pressure – a condition affecting one-third of adult New Zealanders and disproportionately more Māori and Pacific people.
His study is one of five research programmes funded as part of the HRC's $81 million investment in new research projects and programmes announced today by Minister Megan Woods.
Professor Paton is also an honorary academic at the Auckland Bioengineering Institute. He says despite the armoury of medications currently available, treated patients still remain at elevated risk of cardiovascular events such as stroke, heart attacks and blood-clotting.
None of the frontline pills affect the activity that's generated from the brain that goes to the heart and blood vessels
The poor control rate reflects treatment resistance, drug intolerance and poor patient compliance due to the unpleasant side-effects of some medications. But it's also due to current medications treating the symptoms, and not what Paton believes is a primary cause of high blood pressure.
"None of the frontline pills affect the activity that's generated from the brain that goes to the heart and blood vessels" – an area that's become a focal point for researchers in recent years.
Professor Paton says activity in the nerves to the heart and blood vessels – known as the sympathetic nerves – is substantially increased in people with high blood pressure.
"We know that their activity is raging – much higher than it should be – and we believe this is causing much of the squeezing down on the blood vessels, causing blood pressure to rise."
Professor Paton's research team believes controlling sympathetic activity is the key to controlling blood pressure, and the best way to do that could be by targeting a sensory organ that's the size of a rice grain at the top of the neck, called the carotid body.
Dysfunctional activity in the carotid body has been found to activate the sympathetic nerves which in turn squeezes blood pressure up. But what exactly causes this abnormal activity will be the focus of Professor Paton's research over the next five years.
Initial testing will be in rats and sheep to first establish the mechanisms involved and to decipher if a new drug candidate could switch off the problematic signals. Patients recruited from specialist clinics will also be tested to see if excessive carotid body activity causes severe levels of blood pressure.
By the end of this programme, researchers will know whether the carotid body is over-active in patients with high blood pressure – a critical first step before testing any new treatment on humans.
The Health Research Council's acting chief executive, Dr Vernon Choy, says this research programme gives New Zealand a unique opportunity to identify the root cause of a problem affecting a billion people worldwide, and could pave the way for new treatments to be developed.
"High blood pressure is the biggest risk factor for cardiovascular disease – the leading cause of death globally – and it's clear we don't yet know everything about controlling it. This is research that could save lives, improve the quality of life in people with high blood pressure, and dramatically reduce hospital admissions."
Distinguished Professor Jane Harding from the Liggins Institute, University of Auckland, also received nearly $5 million to assess the impact of interventions into mother and baby health.
A full list of 2019 HRC Programme grant recipients, along with lay summaries, is available on the HRC website (filter for 'Researcher Initiated Proposals', 'Programmes' and '2019').