Paving the way for women in STEM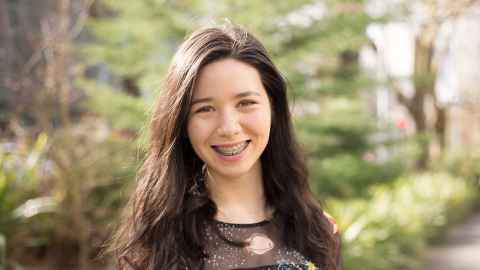 Being "dragged" to a robotics competition as a punishment, ironically, was where Mikayla Stokes' love for robotics began.
Fast-forward six years and Mikayla is an up-and-coming robotics superstar.

She makes robotic pets on children's TV show Fanimals and she is a back-to-back winner and ambassador of New Zealand's top competition for inventors, Skills Bright Sparks. Earlier this year she co-founded TechGirlsNZ, an initiative to encourage girls to study science, technology, engineering and maths (STEM).

Mikayla, a first year engineering student, was recently awarded the inaugural James Deaker Women in Technology Scholarship. This scholarship provides up to four years' support to a woman who is enrolled in an undergraduate programme in engineering or science and has an interest in technology.

Mikayla hopes to major in mechatronics (electronics and mechanical engineering). She says the scholarship is a life-changing opportunity because she can cut down on the number of hours she works and dedicate more time to her studies and her passion for getting more females involved in STEM industries.

Highlighting to girls that engineering isn't just for boys is extremely important to Mikayla. She aims to forge an easier pathway for girls interested in STEM so they have a more positive experience at school than she did.

She was uninterested in these subjects until she was 12, when her dad took her to a robotics event, as "punishment" for not doing her chores. It was there that she became interested in technology and saw how other subjects, like maths, could relate back to creating a better robot.

However, she was the subject of ridicule from her peers since she was often the only girl in STEM classes as they became elective.
"There was never anyone I could relate to and I did experience a fair amount of sexism at high school. The people that were interested in the same things as me put me down constantly. All I wanted was a community of people I could talk to, which I thought I'd get through events, but I didn't. So one solution was to create events where these girls could meet each other and form those communities."

That's what led to her volunteering at a number of science and technology events and then co-founding TechGirlsNZ after feeling like girls weren't properly catered to.

"At high school all of the events I went to for women in technology were pretty bad. They didn't seem to understand who teenage girls connect to. It was such a missed opportunity. Those rooms were full of people like me but it wasn't set up in a way I could form those connections with people and hear from people who inspired me."
Mikayla is a volunteer for OMGTech! which is an initiative that aims to provide school children access to technology throughout the country. At one of the robotics workshops, she noticed three girls that were hanging back. Mikayla encouraged them to take part in an interactive session where participants are asked to programme a robot through a maze.

"I went up to them and asked what was going on. They said things like 'I'm bad at maths and technology, I don't want to be here, I'm not even going to try'.

"I showed them some basics of code and they realised how to do it. They started 15 minutes after everyone and they were the first ones to finish programing the robot through the maze. At the end of the day they brought their parents over to me and said that they loved maths and wanted to be engineers… I really like that experience of showing girls that technology and science isn't about the stereotypes you always hear about."

Donor James Deaker says it is imperative more women get involved in science and technology because diversity leads to success.
"I firmly believe that all real advancement and innovation in our society comes in the fields of science and technology, but these continue to be areas where woman are under-represented.

"They aren't under-represented because of ability, but because of opportunity and encouragement. As a society we will benefit from the diversity of thinking that comes with having more women represented in technology in crafting new solutions to the challenges we face.
"I hope that this scholarship will afford Mikayla the support she needs to lead and inspire other women into careers around technology."

Years of working throughout high school to save for University and then working almost full time in semester one was extremely tough for Mikayla. This scholarship will mean she no longer has to be so worried about how to make ends meet.

"I've been saving for University for almost my entire life and I got here and it still wasn't enough, it was quite a struggle.

"The impact that this scholarship will have and has had on me is just incredible and I hope I can continue to create change in the communities I'm involved in, in the same way that James has helped create a change in my life as well."