High note in rare Mozart find at University of Auckland
Rare first editions of two Mozart piano sonatas have turned up in a donated volume of miscellaneous scores at the University of Auckland.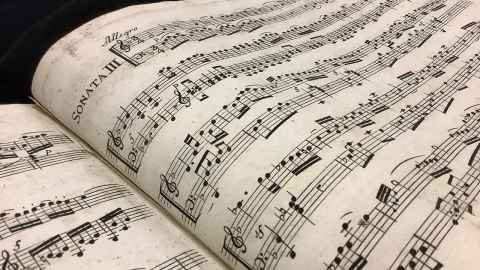 Margo Knightbridge, who is a cataloguer at Te Tumu Herenga (Library and Learning Services),  came across the two Mozart scores, which were lacking a title page and featured in a bound volume. The volume also contained 18th-century sheet music by Johann Sterkel and Giovanni Viotti. 
Library music specialist Phillippa McKeown-Green says School of Music experts identified the unattributed pieces as Sonatas No. 1 and 3 from Wolfgang Amadeus Mozart's Trois sonates pour le clavecin ou pianoforte, known more commonly as Piano Sonatas 10, 11 and 12.

Further research revealed they were first editions published by Artaria in 1784, and were probably from the first print run of around 100 copies. A Viennese company, Artaria was the primary publisher of Mozart's work during the last few years of his life.
Associate Professor Allan Badley, a specialist in 18th-century Viennese music publishing, had a close look at the scores and confirmed the identification. They are now housed in Special Collections at the University.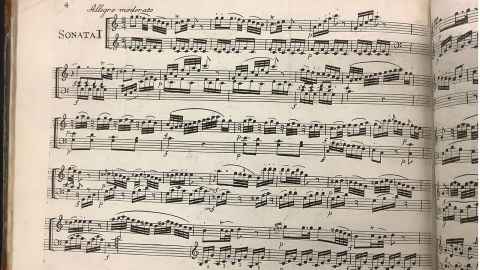 Unfortunately, Sonata No. 2 is missing from the set and paper fragments suggest it was removed much earlier. Known now as Piano Sonata 11, K. 331, it contains a final movement marked Rondo Alla Turca, possibly Mozart's most famous piano piece.

Allan says it's intriguing that the best-known of the three Mozart sonatas was separated from the set at some point, evidence he believes of the work's contemporary popularity in England.
"It's also interesting musicologically to see that the Mozart publication was collected and bound with two piano concertos by Viotti (1755-1824) and keyboard parts from a set of three trio sonatas by Sterkel (1750-1817)."

The pieces in all three sets are technically challenging and were certainly intended for pianists with highly developed skills.
Allan is also struck by the high-quality printing and production of the Mozart pieces, including the paper, when compared with many contemporary Artaria editions he had consulted in European libraries.
"This indicates that Mozart (1756-1791) was particularly valued by his publisher.'
"Being able to see things like the quality of the paper is so useful when researching music of this period," says Phillippa. "So having the physical scores in front of you really gives you greater insight."
Researchers can now consult this volume thanks to the generosity of donor David Nalden, a retired teacher of violin from the University of Auckland School of Music. A musician friend had given it to him decades ago in England because of his interest in Viotti as a composer for violin.