Auckland bioengineer recognised as one of the world's best
Professor Martyn Nash, of the Auckland Bioengineering Institute (ABI) and Department of Engineering Science, has been inducted to the College of Fellows of the American Institute for Medical and Biological Engineering (AIMBE).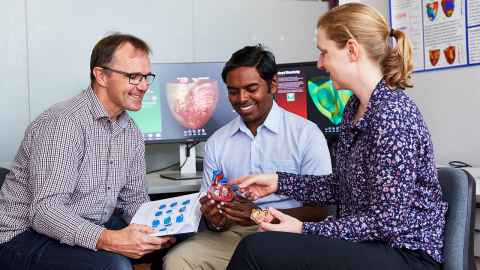 Election to the AIMBE College of Fellows is among the highest professional distinctions accorded to a medical and biological engineer.
It honours those who have made outstanding contributions to "engineering and medicine research, practice, or education" and to "the pioneering of new and developing fields of technology, making major advancements in traditional fields of medical and biological engineering, or developing/implementing innovative approaches to bioengineering education".
The primary focus of Dr Nash's research career has been on bioengineering analyses of the heart in order to understand mechanisms and events underlying cardiac electro-mechanical activity in health and disease, which he has done in collaboration with colleagues in the UK, USA, Europe and New Zealand.
He has also developed and is applying his bioengineering and modelling to other organ systems - specifically, studying the biomechanics of the breast, skin, pelvic floor, lungs, tongue and head (shaken baby syndrome).
Last year, for instance, he and his team received $1.05 million in philanthropic funding to advance research in which they have developed biomechanical analysis techniques that automatically merges information from different medical images of the breast, using machine learning and state-of-the-art imaging to develop a technique that will radically improve the diagnosis and treatment of breast cancer.
Dr Nash was nominated, reviewed, and elected by peers and members of the College of Fellows for "his world-renowned development in the measurement and multiscale modelling of many soft tissues including cardiac, breast and skin tissue".
He was remotely inducted along with 156 colleagues who make up the AIMBE College of Fellows Class of 2020 on March 29/30.
"It is gratifying that the research I am involved with, much of it driven by the excellent research scientists and graduate students that I work with, is recognised by world leaders in bioengineering," he says
AIMBE Fellows are among the most distinguished medical and biological engineers including three Nobel Prize laureates, 18 Fellows who have received the Presidential Medal of Science and/or Technology and Innovation, and 173 also inducted to the National Academy of Engineering, 84 inducted to the National Academy of Medicine and 37 inducted to the National Academy of Sciences.
"Professor Martyn Nash is world-renowned in the measurement and multiscale modelling of many soft tissues including cardiac, breast and skin" says Professor Peter Hunter, Director of ABI. "Along with everyone in ABI, I am delighted to see this work recognised by Marty's election to the prestigious AIMBE Fellowship."