Our new Engineering building: The first few months
After a dawn blessing officially opened the new Engineering building last year, the start of 2020 saw staff and students begin to settle in and explore their new place of work and study.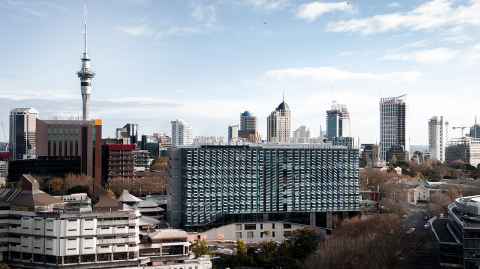 It was the culmination of over five years' worth of planning and work, and even in just a few short months it's already beginning to align with its original vision to function as more than just a technical space for teaching and learning, but one that represents the faculty's identity.
Building Programme Coordinator Mike Renwick notes that even once the building was completed it still took another three to four months to move all the people and over 10,000 pieces of equipment into it.
"It was a fantastic feeling when the building was ready for occupation, with the impressive world-class range of flexible teaching spaces and complex research labs being ready for the faculty's staff, researchers and the future engineers of New Zealand,' Mike said. "Everyone involved in the project should be very proud of what they have delivered, a building that will no doubt stand the test of time, through an ability to adapt to changing needs for decades to come."
"On the first few days of Semester One, I spent some time walking around the building, watching people, checking the building was working as we had planned," he continues. "I asked a few people for their views and it was very pleasing to hear all the great feedback and to finally realise we had delivered this fantastic new facility on deadline."
Despite currently being mostly unoccupied as everyone had to work and learn remotely, a few events were hosted in the new building at the start of this year, and even acted as a first point of contact with Engineering for the school students who took part in the Women in Engineering Summer Camp. The students started their two-day camp by meeting in the foyer, before completing activities in the new labs and Multi-disciplinary Learning Spaces (MDLS) and having their final prizegiving by the terraces.
It was only fitting that the now former Dean of Engineering Professor Nic Smith had his farewell engagement in the new building as well, as it was designed and constructed during his tenure and with his input. Professor Smith contributed to early discussions that agreed it needed to be more than just a functional building, and should be a space that is representative of being located in the South Pacific, while also feeling like a building that represents visible engineering concepts.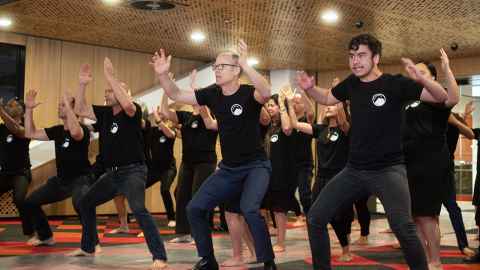 In terms of teaching, the new building greatly expands on the number of MDLS rooms the faculty has. As Technical Manager (Teaching) Yantao Song explains, these are more than just laboratories and workshops. The MDLS are 40 flexible and specialised learning spaces that enhance the learning experience for approximately 4,000 students between Part I and Part IV each year. The teaching and learning opportunities in MDLS include providing a more targeted learning experience, with the option of group work with re-configurable furniture, and varied experimentation with roll-in and roll-out equipment.
"The MDLS rooms were set up and have been welcoming staff and students since January earlier this year," Yantao says. "Staff are excited about the new MDLS and the possibilities of more innovative teaching options. A large number of academic, technical and professional staff members toured the MDLS between January and February 2020. The feedback we got was very positive and they were impressed by the various configurations and facilities."
The opening of the new building also saw people and research groups from a range of departments move to the city campus. One such group is the Robotics Group, who were based in labs on the Newmarket Campus. Even in just a few short months, Soriya Em found being able to integrate more with their other colleagues has really benefited the team.
"We are only a few floors away from the other teams who are working with robotics, such as the Mechatronics and Mechanical Engineering teams," Soriya explained. "We initiated a micro tour around the labs and discovered other labs (that we didn't know about!) that we hope to collaborate with in the future."
"We are so much more connected to our department and the faculty. It is great seeing people in person, where previously I have only ever known them by email. There's been lots of accidental but helpful corridor meetings, and it's great having lunch with new people in the staff room!"