Steven Dakin: We need to focus on eye healthcare for everyone
Professor Steven Dakin, Head of the University of Auckland's School of Optometry and Vision Science, says New Zealand has an issue with eye-health inequity.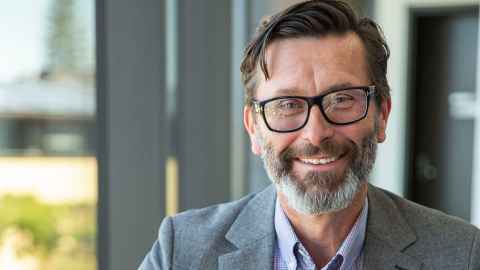 One of the more unexpected moments in Professor Steven Dakin's career as Head of the School of Optometry and Vision Science (SOVS), came when he found himself in the office of the University of Auckland's legal counsel discussing ducks.
The duck in question was an eye chart symbol created by SOVS as part of a Cure Kids project to improve eye tests for schoolchildren.
"We had received the equivalent of a 'cease and desist' letter by the maker of another eye chart, claiming our duck was too similar to their duck!" says Steven.

"But pretty much all the popular eyesight testing charts for kids contain a house or a duck. There are only so many simple symbols that children can name. I think the real problem was probably that we do not charge optometrists to use our test.
"Usually eye charts are expensive because they're the result of a lot of background testing and normative data. We're taking a different approach, making the charts free and asking optometrists to share data to improve the test."
The situation was resolved with no waddles of cash involved. And the duck remains. Still looking like a duck. Still helping test children's eyesight.
Steven is best described as a visual neuroscientist, working on the parts of our brain that let us see the world. He became head of the School of Optometry and Vision Science in 2015, moving to New Zealand from the UK with his Kiwi wife and young children.
Steven's driving concern right now is the issue of eye-health inequity in New Zealand which he says many don't realise the extent of.
"I would say the most important research in the School of Optometry and Vision Science is related to eye-health inequity. Innovation in treatment is, of course, very important, but right now our priority needs to be getting the treatments we already have out to people everywhere in Aotearoa New Zealand. This isn't always happening."
Concerns about this inequity are increasingly driving the research of many SOVS researchers and have led to a recent appointment.

"We're really lucky to have Jacqui Ramke joining us as Associate Professor in Public Eye Health, thanks to the support of the Buchanan Charitable Foundation. She's a world authority in equity and eye health."
One of Jacqui's projects involves mapping the distances people need to travel to get to their nearest eye-health specialist.
"If you go to Northland, people can be driving three hours to get a pair of glasses. If you're on a limited budget, maybe taking care of kids, you're not always going to do that. And although we suspect this is a particular problem in Māori communities, we don't have clear data to help us understand the barriers people face."
One in ten children in New Zealand needs glasses and doesn't have them. The current system is flawed.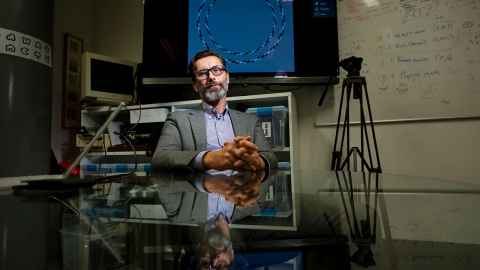 Steven says New Zealand needs a national eye health survey to create a baseline from which to work. He says that's something he'll push for in his new role as chair of Eye Health Aotearoa, a trust comprising representatives of ophthalmology, optometry and New Zealand's sight charities. Eye Health Aotearoa's mission is to advocate to reduce the inequities.
"One in ten children in New Zealand needs glasses and doesn't have them. The current system is flawed. Children are screened right before starting school which is good but there's a long gap to the next screening – it's not until Year 7. So there are a lot of kids who could do with a check in the interim who aren't getting it."
Children aren't the only group slipping through the cracks.
"In 2017, Winston Peters made a promise of free eye health tests for the over 65s and the government has finally committed funds to this in their recent budget announcement," says Steven.
"It's an important initiative though because such checks lead to earlier detection and treatment of eye disease, which results in patients keeping more of their vision. I just hope the Government gets the testing right and consults with clinicians and sight charities about what tests are needed."
Student optometrists at the School of Optometry and Vision Science check the vision of around 5,000 children a year in greater Auckland schools. But if the student identifies a problem with a child's eyesight, they have to refer them to an optometrist. "We can't currently do a full eyesight test on-site. So we have to refer the children and hope they're eligible for subsidised glasses and the eye exam will be free through a Community Services Card.
"Even if they do, it's still a barrier for some people. They see optometrists as being expensive, and won't take their child along."
What Steven would like is funding for New Zealand's first mobile eye clinic – based on a modified St John ambulance – to allow students to give the children a full exam on site.
"The children could then get a proper prescription at the end of it. The ideal would be if we could partner with a local optometrist to get glasses delivered to the children. This would really help lower the barriers preventing children from getting their vision corrected.
"We want to run the mobile eye bus for five years, and we're asking for about $1.5 million to do that. It's not that big an ask so we really hope we can get someone on board with that too once we get out of the Covid-19 restrictions. And while it's the children who benefit, it's also really good training for the optometry students."
We want to run the mobile eye bus for five years, and we're asking for about $1.5 million to do that.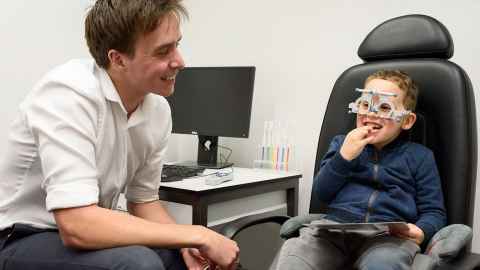 Steven says early intervention in all aspects of eye-health care, from children with amblyopia (lazy eye) to adults with glaucoma or cataracts, is vital. One area in which University researchers are making a big difference is amblyopia. It's a condition that begins as a physical problem but as the brain adapts to seeing with one eye, it goes from "being an eye thing to being a brain thing".
"The treatments for it are varied. You can have surgery for the actual muscles, but you still need some form of treatment to deal with the fact that the child's brain has developed differently."
What the School of Optometry is doing is developing binocular therapies where, instead of the traditional treatment (of patching one eye), they give both eyes something to do to bring the 'lazy' one up to speed.
"The treatment involves children watching special movies on a 3D game console. The movies effectively reduce the vision in the good eye to be the same as the vision in the bad eye. It's called 'binocular balancing'.
"Because there's no patch and no glasses it makes it easy for parents to have their children use it, even in the backseat of the car."
Rotary has provided some funding and there's a phase two clinical trial being undertaken in the UK at Moorfields Eye Hospital where Steven worked before coming to New Zealand.
Another innovation that's gone worldwide is for treatment of myopia – short-sightedness. Late last year, the FDA approved the use of a special kind of soft contact lens first developed at the School of Optometry by Dr John Phillips and former PhD student Nicola Anstice.
The MiSight contact lens is the only approved contact lens treatment for myopic children that corrects the short-sightedness as well as slowing its progression.
"People think of myopia as a benign condition, but severe myopia can cause other issues," says Steven. "It's caused by the eyeball being too long and that causes the retina, the cells in the back of the eye that sense light, to get stretched which makes them more vulnerable to damage.
"So if you have severe myopia, it can predispose you to conditions like glaucoma. Severe myopia is the single biggest risk factor for going blind in later life."
It would be short-sighted not to do something about that. 

Denise Montgomery
This feature first appeared in the June 2020 edition of UniNews.